Want a manja kitty that sits in your lap and purrs, loves being cradled? Winky is THE one!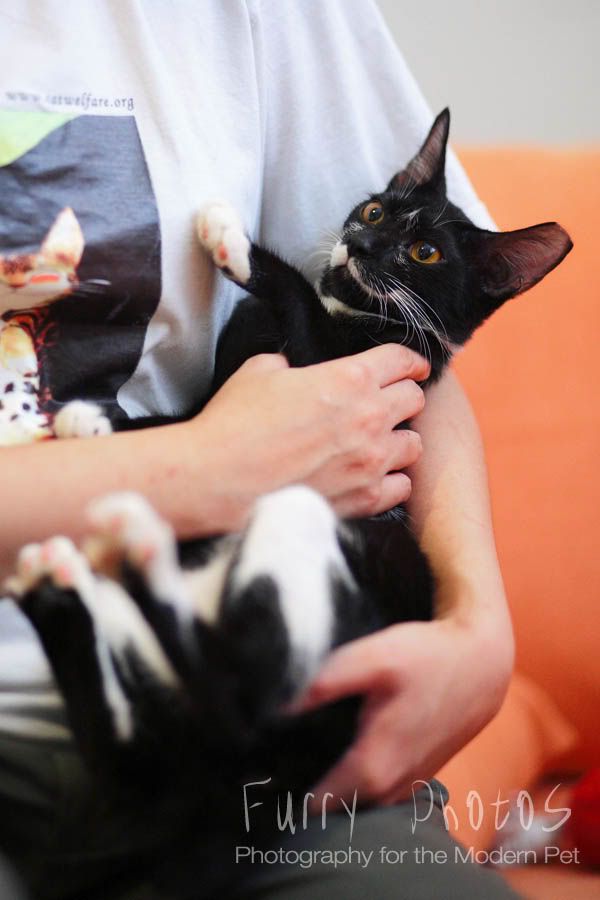 Winky being cradled
Winky is a quiet purring girl kitty who while playful at times, prefers to lounge around and is a lap-cat at heart. She loves to sit and watch us, not overly attention-seeking, yet when we cradle her she purrs. She is a real sweetheart. She loves every human and every cat and is very gentle when it comes to play and affection.
Winky at 10 weeks old
She is dewormed, litter-trained, able to eat dry food on its own, on Revolution, and has received her vet-checks and vaccinations, and is neutered
She was rescued as an orphan kitten at 2 weeks old, subsequently, suffered the flu' a couple of times, and has been treated for it and recovered, hence viable for vaccination. She also had a bout of bronchitis during the heavy air pollution in August but has been treated for it and there has been no recurrence,
Winky with her pen mate Simone when they were babes
She gets along well with other cats, as you can see. She is also very playful even while she loves cuddling and snuggling with humans!
She is also good with children –
At an adoption drive by Cat Welfare Society
She is black with with white socks and underfur, and unique bicoloured markings on her facial area and a short tail. We love Winky because she is so unique in her bicoloured patterns.
See more pictures of Winky here.
To adopt Winky, see right side-bar under 'How to adopt' or click here. Do spread the word on Winky's need for a forever home!