Yesterday at 4am, we received a TNRM appeal for the area around Blk 68 Geylang Bahru from one of our Ubi caregivers who also feeds there. Geylang Bahru is a troubled-zone as there has been repeated culling last year and we decided to ask our Sterilisation Volunteer LY to go check it out. She went the same night, working till 3am this morning to report on the stray cat situation there.
The need is urgent because this particular colony of cats resides near the market and the area is thus very prone to complaints. This estate falls under Moulmein-Kallang Town Council (previously Jalan Besar TC) which has a policy of no-culling of sterilised cats, but also has a high incidence of resident complaints to the town council. All of which means we need to act fast. We have informed the Cat Welfare Society mediator for MKTC of our plans to take on TNRM of this colony so she can handle town council cat-related complaints for this area.
So we need to do this TNRM project immediately, concurrently with our Ang Mo Kio Industrial TNRM project of which round 2 is this Sunday. We are forecasting a total of 3 rounds for Ang Mo Kio Industrial – which means our Sterilisation Fund will not be sufficient to complete TNRM at Geylang Bahru.
Here is the reconnaissance report of the situation at Geylang Bahru.
Map of 2 micro-sites – 14 cats in total
The first micro-site, Blk 68, is tricky to TNR because the cats only come out after the block's shops close at 11pm nightly. The cats hide in the bushes of the nearby amphitheatre, and are not very open to human contact. There are 7 cats in the amphitheatre area, and 3 cats nearer to the market. Only 4 male cats were sighted in this site in total, so we have to assume that the rest of the unsterilised cats are female.
The second micro-site, behind Blk 64, has 4 cats, 2 male and 2 female, and there is also a kitten yet to be mature enough for sterilisation.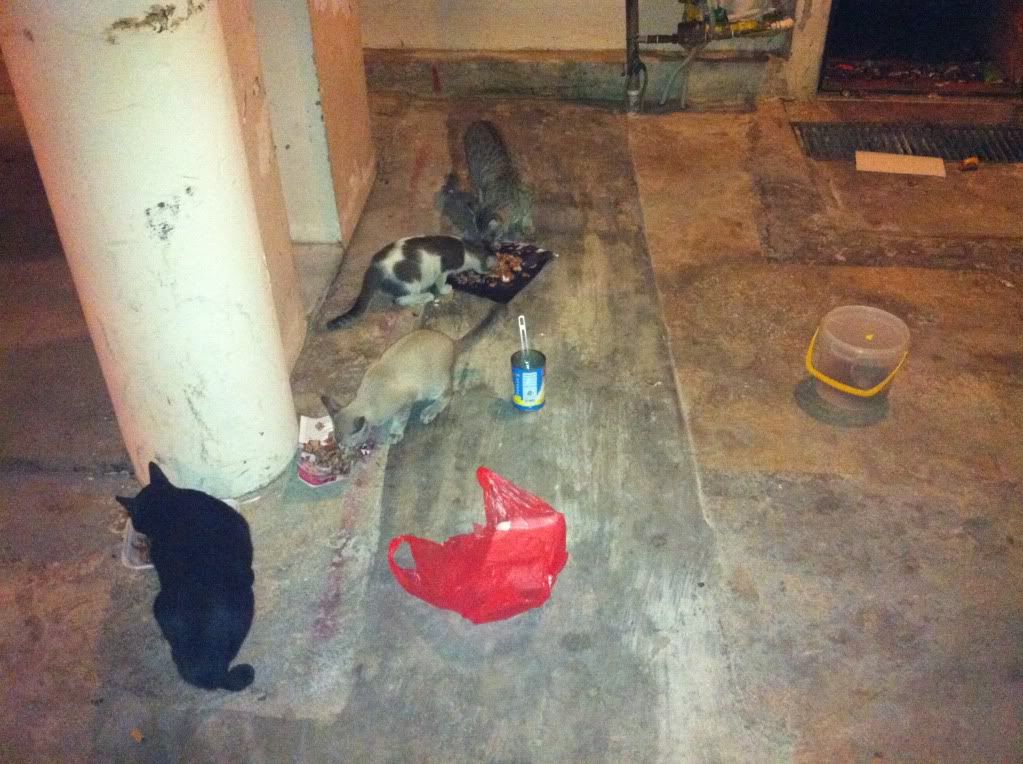 The 4 cats at Blk 64 area
We intend to TNR part of Blk 68's colony, then do a second round for the remaining cats at this block, as well as trap the Blk 64's colony. This means 2 rounds of TNR needed at this area. The first round is scheduled for this coming Tuesday or Wednesday night, to be confirmed by our trapper Damy when we see him this Sunday at AMK's TNR. The 2nd round for Geylang Bahru is likely to be the following week or latest 2 weeks after, as we need to act fast.
How you can help:
At present, our Sterilisation Fund stands at $1,512.20. Rounding this number down to $1,500, we will have estimated $445 in our Sterilisation Fund after paying for rounds 2 and 3 of AMK Industrial Park's TNR. The TNR of Geylang Bahru's cats featured here will cost an estimate of $840.
This means we need to raise a sum of $395 more.
We need your help.
If you would like to contribute financially to our Sterilisation Fund, you can make a direct transfer to our account POSB Savings 188-52652-7, and email or text Elaine at elaine@lovekuchingproject.org / 90880675 to inform us that your contribution for our Sterilisation Fund.
No amount is too small. Thank you in advance for your generosity in helping us help these cats through sterilisation!