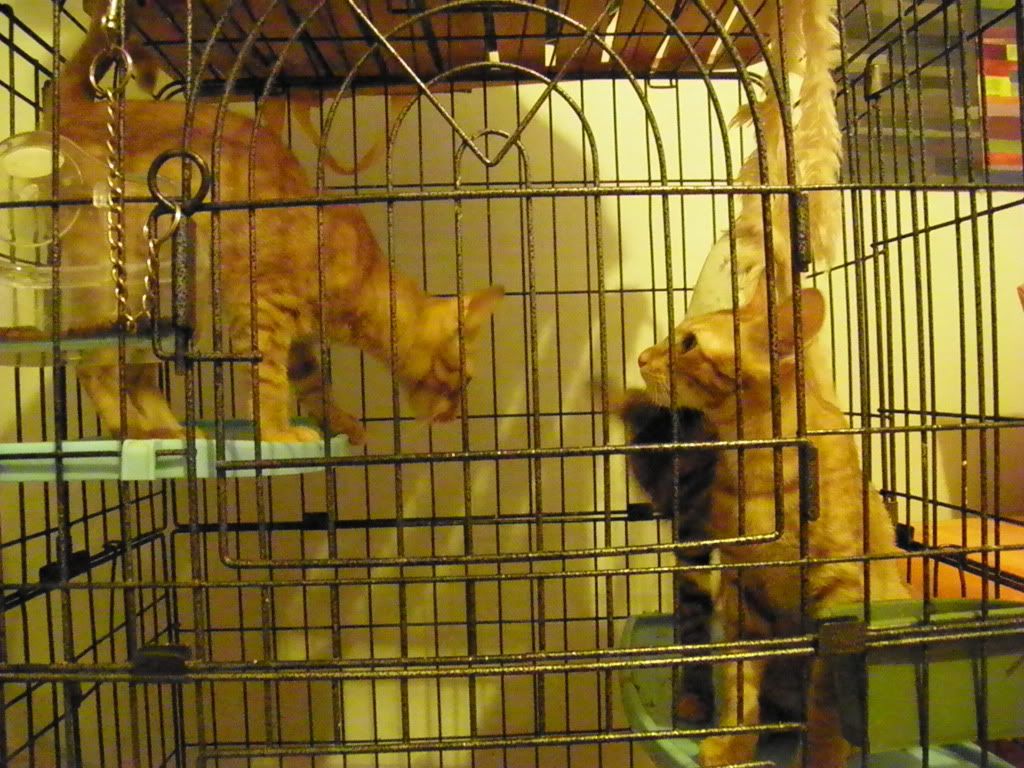 Marcel, Chanel and Jaimie
The 3 kittens rescued from French Road have not been improving in their health – diarrhoea is still very much on, all of them.
At first, Chanel was puking and having diarrhoea as well, so we brought her to test for parvo (feline panleukopenia). It was negative. So we placed the 3 of them on Metrogyl, a long course, about 10 days. No improvement. We stopped the antibiotics to give their immune systems a rest for a few days. We then got the clinic to do a fecal culture to lab test on their poo to identify or eliminate the various bacteria that could be causing their diarrhoea. They tested negative on salmonella and E.coli, among others. Meanwhile, we also tried another antibiotic on them, Bactrim, for 5 days. No change in their poo. Another rest from antibiotics for the kitties by stopping Bactrim. After brainstorming with our vet, we tried treating them with Metrogyl combined with fenbadazole (a dewormer that flushes out an entire colony of gastro-intestinal worms, and also treats giardia, another bacteria that causes diarrhoea). It is a treatment for severe giardiasis. 5 days later, still no improvement.
Meanwhile, a lot of stress in our foster home. Daily litter box cleaning. Cleaning their cage often and the surrounding areas with bleach. Syringing Chanel with supplements because she doesn't want to eat the canned food with the supplements inside. Medicating them with medications that they hate, twice a day, with much spitting, drooling and scratching.
We brainstormed again with our vet today over the phone after reporting to her their condition, and are now going to try Baytril antibiotics tomorrow to treat for another strain of gastro-intestinal bacteria, campylobacter, which is acquired through eating spoiled food like how many other bacteria is transmitted – the Frenchies were fed food scraps before rescue.
Crossing our fingers that this time around the medical regime will work. Treating gastro-intestinal bacterial infections is really tricky because it is hard to identify the specific bacterial strain causing the infection, and each bacteria needs a different antibiotic to kill. If Baytril doesn't work, it means another bacteria is the cause, and their treatment will be further lengthened.
In the meantime, they are still very manja and getting active, eating and drinking well. Just pooping Nutella-like poop that stresses our litter box cleaner Andy everyday. When Chanel was at the vet for the fecal culture, she charmed all the staff at the clinic. These 3 will definitely make great pet cats when they get well!
Will update again when they get better!