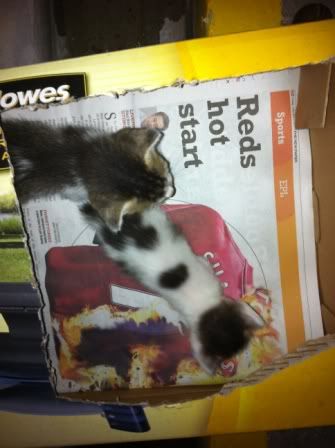 3wk old kittens abandoned at Lengkong Tiga
Our Sterilisation Volunteer @wisheswithwings's cousin found 4 kittens in a box in a playground at Lengkong Tiga where she lives. Upon investigation, they found out that the kittens, originally 5 of them, were dumped there away from the coffeeshop nearby, where there is a resident whose cat is the mother of the kittens. The caregiver of the area who first spotted the kittens, has been unable to get this mother cat sterilised like the others in the estate already are. The rescuers brought the kittens home and started looking for fosterers as they is unable to foster and there was parental disapproval.
4 out of 5 siblings that had remained in the box
The kittens were having slight flu' symptoms, weren't very adept at eating and needed to be bottle-fed – especially the weakest one, Tattoo – named so because he has a heart-shaped mark –
Tattoo's heart-shaped tattoo
We penned the 4 siblings with Bailey in the ICU pen – Bailey is stronger now immunity-wise, after pumping her with supplements, so we can take the risk of penning them together safely.
Clockwise from bottom: Kerri, Tattoo, Lenny, Gerri
They are now on a supplement regimen with both wet food and milk, and kept warm by the heating pad. Bailey has been playing with them. More updates on them when they get better!
Give financially to our cause by depositing to our bank account POSB savings 188-52652-7
Sponsor a foster kitten's vaccination through our Sponsor-A-LoveKuching-Cat Scheme
Give food at charity rates through our corporate sponsor The Water Dish