These siblings have finally fully rehabilitated and are ready for forever homes!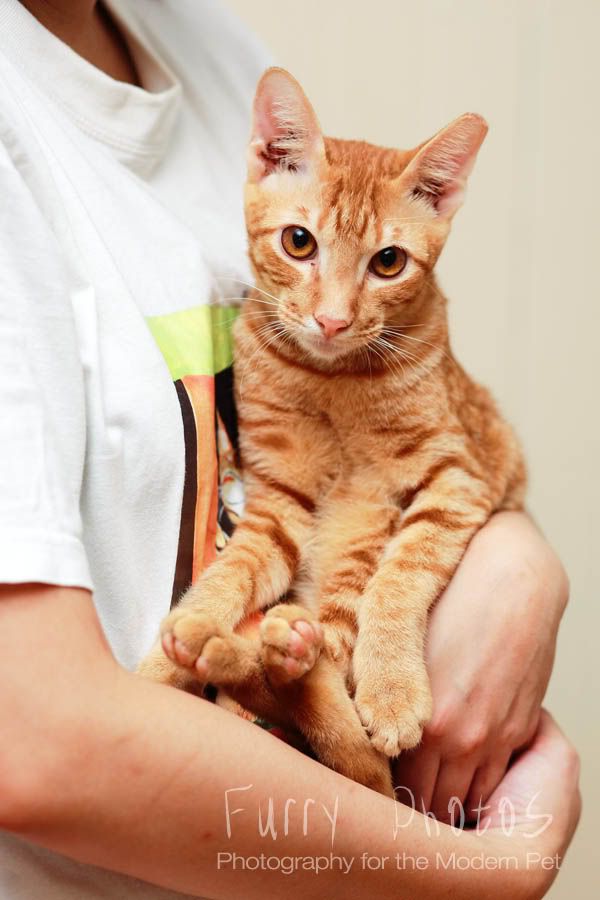 Cuddly Jaimie at 19 weeks old
Their History
These siblings are 2 of 3 kittens rescued from French Road. Their brother Marcel recovered sooner than they did and was adopted recently.
They have been having gastro-intestinal problems since day one of arrival, and recovery took a long time. Apart from their diarrhoea, they also had a yeast infection in their ears. Our usual protocol is not to re-home kittens that are undergoing treatment for sicknesses so Chanel and Jaimie here had to wait till they were certified healthy before this adoption post was written.
Their treatment was thorough. We tested and observed for various gastro-intestinal bacteria that could cause them to keep having diarrhoea. In the end we found out that they suffered from a campylobacter infection and the right treatment was given for it. After the antibiotics was given, we also put them on a herbal parasite cleansing regime – Pet Alive's Parasite Doctor which was donated by our corporate sponsor The Water Dish. They were also treated with loperamide for their diarrhoea which while it became much better, was still present because their digestive tracts were already weakened by the persistent diarrhoea. Coupled with supplements to help their systems to heal, they are now better and can finally eliminate solid poo!


Their personalities
Chanel is very affectionate and loves to be hugged, the longer the hug the better. She can be draped around a human shoulder like a purring fur shrug! Of course, she is also playful, but she obeys verbal commands responsively when she breaks a house rule. She loves playing with pillows and is very curious. Regardless of how much she wants to play though, she is always willing to get a hug. Rub her like a genie lamp and she starts purring non-stop.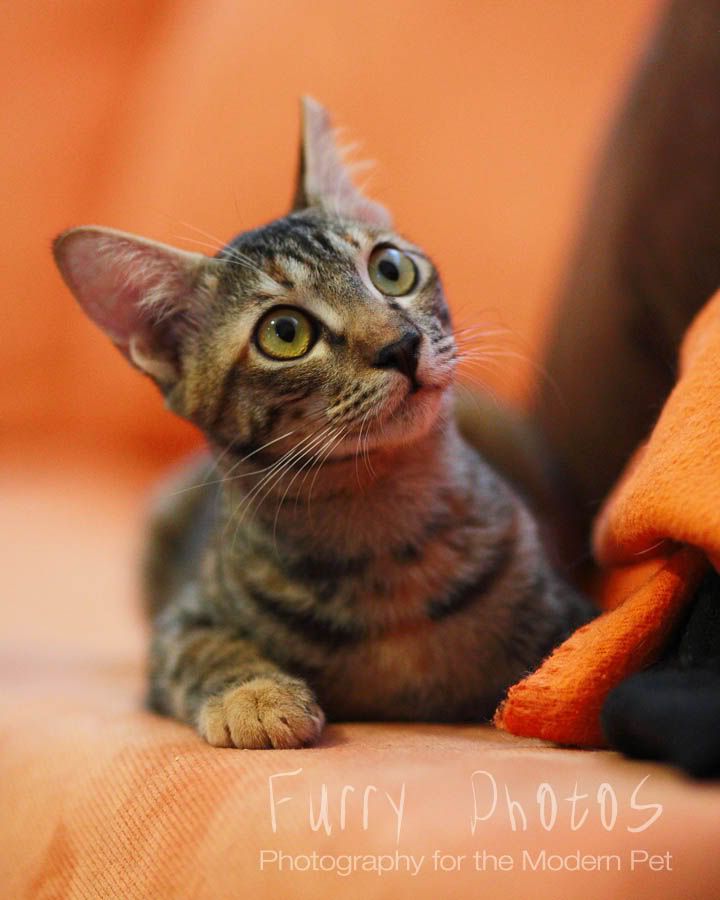 Curious Chanel
Jaimie is also very affectionate – he enjoys rubbing his entire self against humans non-stop, purring all the way. He likes hugs too, as you can see from his portrait photograph. And when hugged and asked to purr, he does exactly that. He is mischievous, loves to play with books (which we disciplined him not to!) and he would rather play than eat sometimes. He is still learning to respond to verbal commands but is not really scared of loud 'No's, and is more responsive when smacked. No love lost after being smacked though, and he does not repeat the action after a smack.
Both are very cooperative with being handled, during showering and grooming. They are like kittens who can't say no to humans. They really love humans that much!
Their bio-data
Both are 34 weeks old at the time of this post. Chanel is a spotted torbie i.e. tortoiseshell tabby. Jaimie is a red tabby with mostly mackeral and spotted markings, but with some marbling on his front flanks. Both of them have white coloured chins (in Chanel's case more cream than white). Both have long tails; Chanel's has a kink at the end. Both are local shorthairs but Chanel's fur is more double-coated, thicker and softer.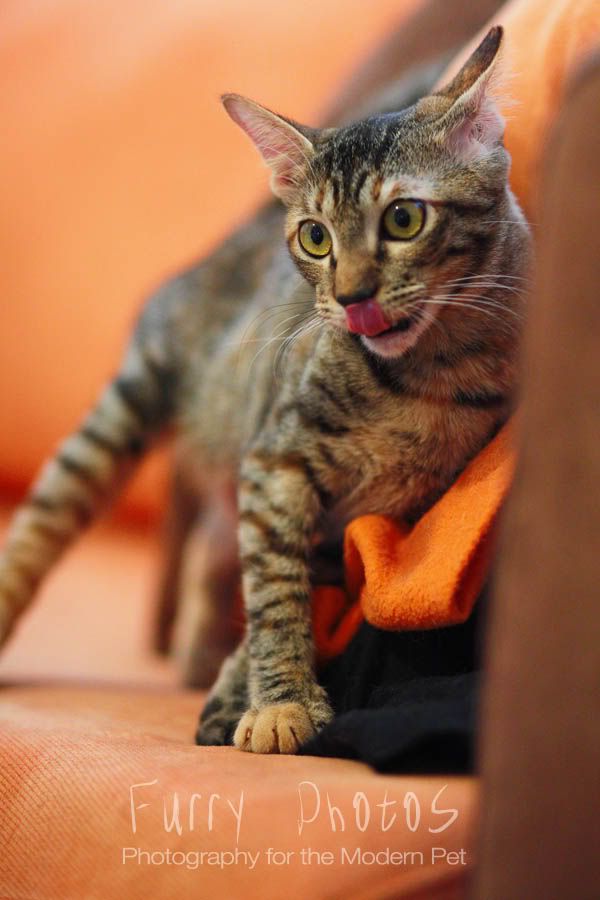 Chanel the torbie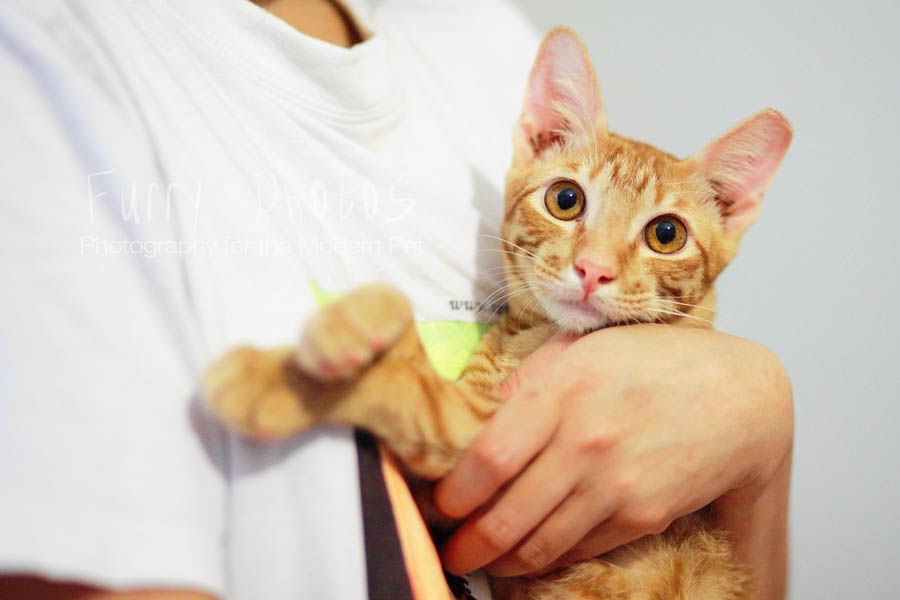 Jaimie showing his white chin
They have been vaccinated, vet-checked, dewormed, free of fleas and mites, sterilised, litter-trained, able to eat both wet and dry food.
If you would like to adopt either Chanel or Jaimie, please see right side-bar on 'How to adopt' or read here, to find out our adoption procedure and how you can adopt them.
Give financially to our cause by depositing to our bank account POSB savings 188-52652-7
Sponsor a foster kitten's vaccination through our Sponsor-A-LoveKuching-Cat Scheme
Give food at charity rates through our corporate sponsor The Water Dish