It's a new year! Every year, we strive to be better at what we do, to be better at loving the cats in our lives and neighbourhoods.
This year, we want to begin with a first of a series of January posts sharing with all of you our vision and direction for 2012.
We based our direction for 2012 on an analysis of our core strengths and weaknesses. Using this matrix map for non-profits –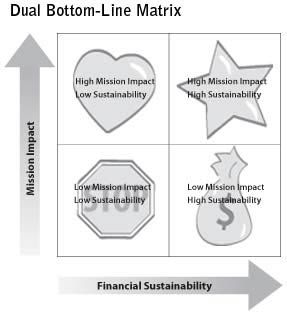 – we distributed our activities to identify which quadrant they belong to.
Today we want to share with you an activity that lies in the Heart quadrant. Being a Heart means the activity makes a big impact, but also spends a lot, and does not make a profit. Our main Heart is our cat rescue work in fostering rescued cats. Fostering and rehabilitating rescued cats expends both our Boarding Fund and our Veterinary Fund. Adoption fees and Sponsorships do not cover the expenses fully, but only partially.
In order to keep our foster care work sustainable, we need to reduce our costs. However, we do not believe in reducing the quality of care that we provide our rescued kittens just to cut costs. We are one of the few cattery environments that enhances foster care with supplements, effective alternative remedies, home and professional veterinary care and vaccinations, and quality food. We continue to deepen our knowledge in home veterinary care, and in managing contagion. We interact with and house-train kittens that are for adoption, providing sound advice to adopters on the kittens' personalities.
Upon brainstorming, we have outlined a few ways we can reduce our expenses on foster care. Here they are, and how you can help us with them.
Lower our financial expenses by giving more The Water Dish bundles of food (and soon to come, litter) for us. The Water Dish stockpiles the orders and delivers them to us in bulk, so we do not have to worry about food expiring. There can never be too much food or litter!
Lower our delivery expenses on supplements and essential oils from iHerb. To be prudent, last year we purchased our stock in small quantities, otherwise we would come up short on our Boarding Fund for other boarding expenses. In order for us to purchase in bulk so as to lower delivery expenses, we need more cash reserves in our Boarding Fund. We need your financial gifts to beef up our Boarding Fund to help us do that.
Lower our financial expenses by giving donations-in-kind of boarding supplies. If we can eliminate using cash reserves from our Boarding Fund to buy boarding environment essentials, we can further reduce our costs. Boarding essentials you can give include:
Jeypine hospital grade disinfectant or Dettol
Bleach (generic)
Kiwi Kleen multi purpose cleaner – refill bottles
UIC or Ligent dishwashing liquid – refill packets
Dettol air freshener spray
Kitchen paper towels
Huggies or Kodomo baby wipes
Plastic bags (slightly larger and thicker than supermarket type)
To give financially, deposit to our account POSB savings 188-52652-7 and text/email Elaine at 90880675/elaine@lovekuchingproject.org to inform us that your contribution is for our Boarding Fund.
To give boarding environment supplies in item 3, text/email Andy 81277072/andy@lovekuchingproject.org to arrange a timing to bring them our foster home, and we will send you our address.
More in 2012 series: 2011 annual report, activities in the other quadrants from diagram above, and other improvements we are making for 2012. Keep a lookout!
Give financially to our cause by depositing to our bank account POSB savings 188-52652-7
Sponsor a foster kitten's vaccination through our Sponsor-A-LoveKuching-Cat Scheme
Give food at charity rates through our corporate sponsor The Water Dish