Duke Orange has endorsed our TNR of the Geylang food district stray cats! The kitty celebrity has decided to donate the proceeds from the sale of his 2012 Calendars to our Sterilisation Fund to help us continue our work in this area of Singapore.
A BIG THANK YOU TO DUKE. YOUR KINDNESS IS AMAZING AND KNOWS NO BOUNDARIES. MEOWWW. We love you Duke!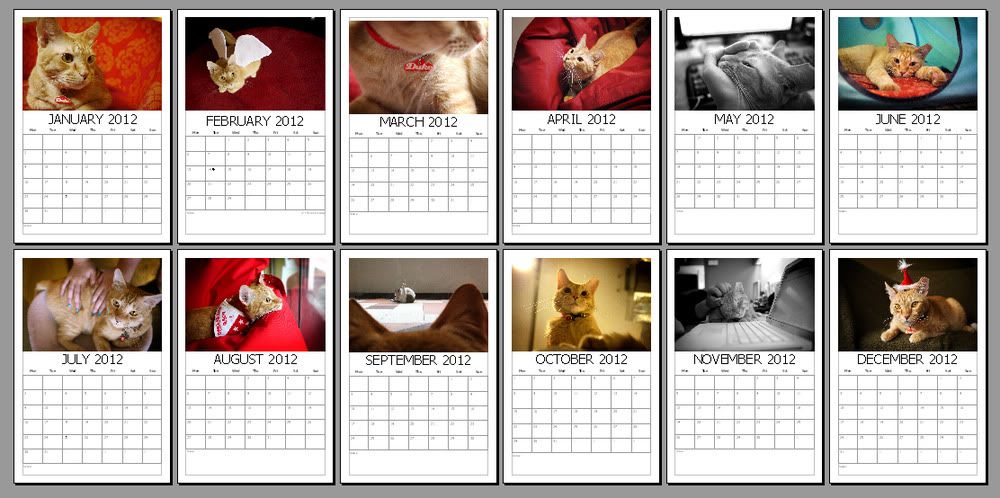 (Click to enlarge)
Duke Orange is really handsome and it will be a feast for everybody's eyes to look at a new picture of him every month. Spread the awesomeness of Duke Orange! So please support and buy a calendar for yourself and as a gift for others!
The calendar is a desk sized 4 inches by 6 inches, comes with an acrylic stand, costs S$12 inclusive of delivery via regular mail in a padded envelope. If you already have the acrylic stand please indicate to us so, in the email to us (details below), so we can save on shipping and material cost.
$12 is a suggested price by Duke, but you are definitely more than welcome to give more!
How to purchase Duke's 2012 calendar:
Email us at elaine@lovekuchingproject.org CC/ sterilisation@lovekuchingproject.org and CC/ dukeorange.cat@gmail.com
Indicate the number of calendars you wish to purchase, how much you have transferred, and the addresses the calendars should be mailed to.
The bank account that you should transfer your payments to before you email us should be our Love Kuching account POSB savings 188-52652-7.
All funds received from the purchases of Duke's 2012 calendar will go into our Sterilisation Fund. We will publish on our blog the amount raised for our Sterilisation Fund by the sale of the calendars when sales have closed.
Side note: in our 2012 financial statement we will not be recording income received from Duke's calendars as Sales but as Donations as the merchandise sold does not belong to Love Kuching Project. Just a technicality for those of you who are into financial reporting on annual reports!
Not able to purchase? Click on any of the share buttons below this post to spread the word!
Wish to give without buying? Deposit into our bank account POSB savings 188-52652-7 and text/email Elaine at 90880675/elaine@lovekuchingproject.org to indicate that you are giving towards our Sterilisation Fund.
Give financially to our cause by depositing to our bank account POSB savings 188-52652-7
Sponsor a foster kitten's vaccination through our Sponsor-A-LoveKuching-Cat Scheme
Give food at charity rates through our corporate sponsor The Water Dish