Geylang's food district, at a small alley where the cats have no feeder – we went there on Wednesday to trap them for neutering.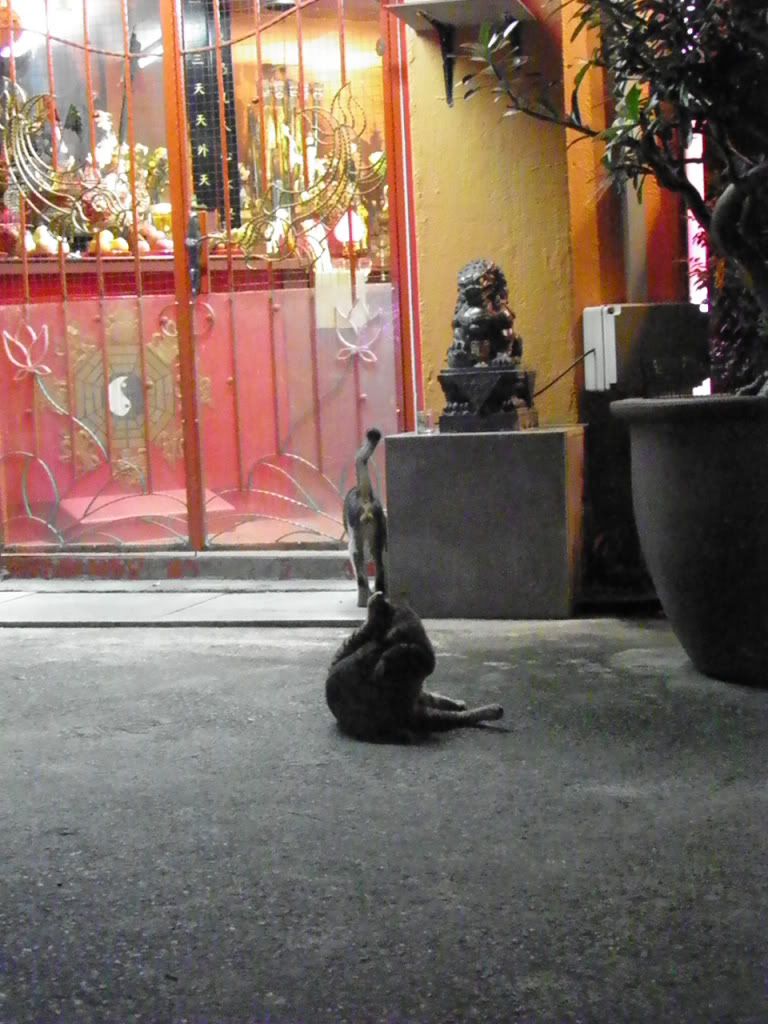 Hanging out outside a temple cum gambling den
We trapped 8 cats in total. But the spay/neuter clinic vet said one of the cats was not viable for neutering because he had breathing problems; he might die in surgery. He has been returned to the site un-neutered, but thankfully we trapped his surrounding female friends.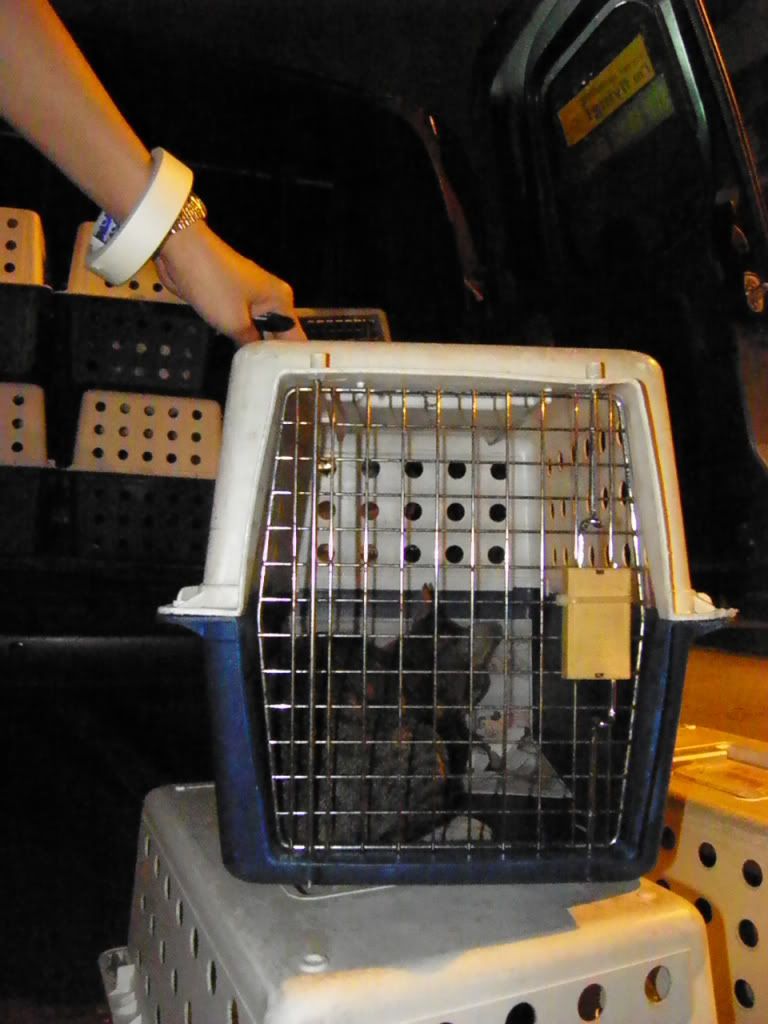 Tabby male that could not be neutered
Another cat we did not trap for neutering is a mother cat that is still nursing; likewise, the spay/neuter clinic will not be able to perform the surgery.
Lactating mom
One of her kittens, the rest were very scared
Throughout the trapping process we educated the gambling den folks about the concept of TNR, how neutering the cats will reduce the nuisance factors, and how returning them to their original site was far better than relocating them, because that would create a vacuum effect inviting more new cats to the area. We managed to convince them as far as possible. Some of the passers-by also cooperated during the trapping by not intercepting the cats entering traps, although we did have one passer-by that kicked a trap with a cat within. Geylang does have all kinds of people.
Most of the cats weren't too sociable. Only one was trapped by hand because she was very human-friendly. Likely the sister of the lactating mother cat.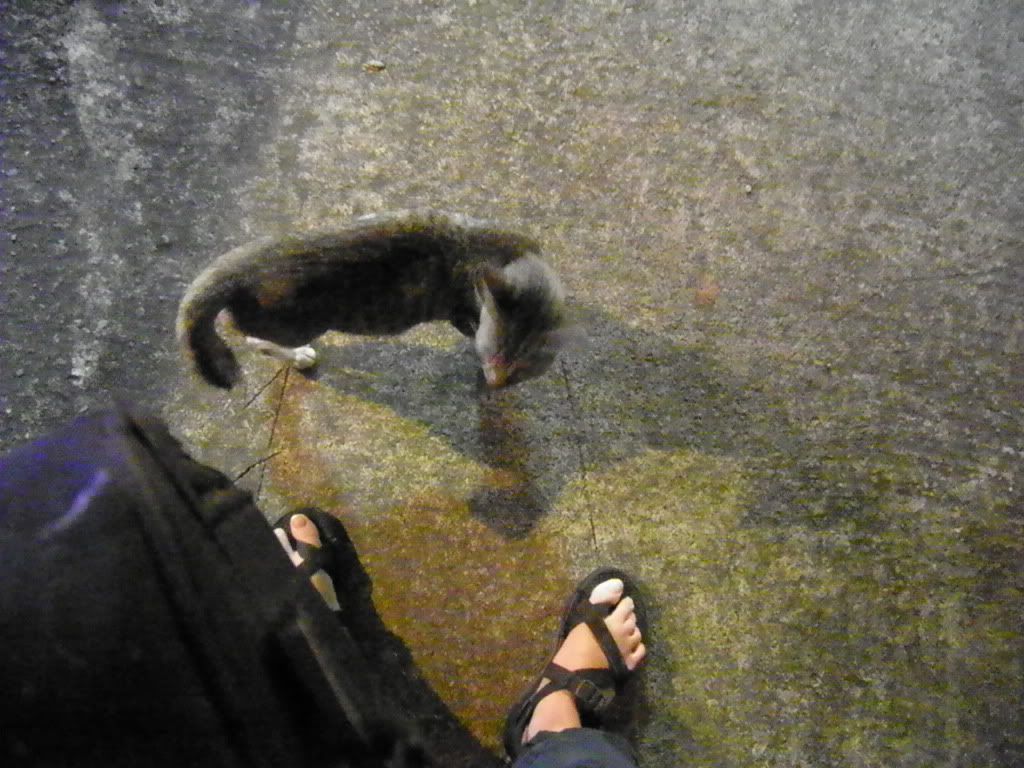 "Hmm human, equals food?"
The cats' main food source comes from scraps thrown out by foreign workers, whose quarters' back doors face the alley. Other than that they don't have much loving human contact.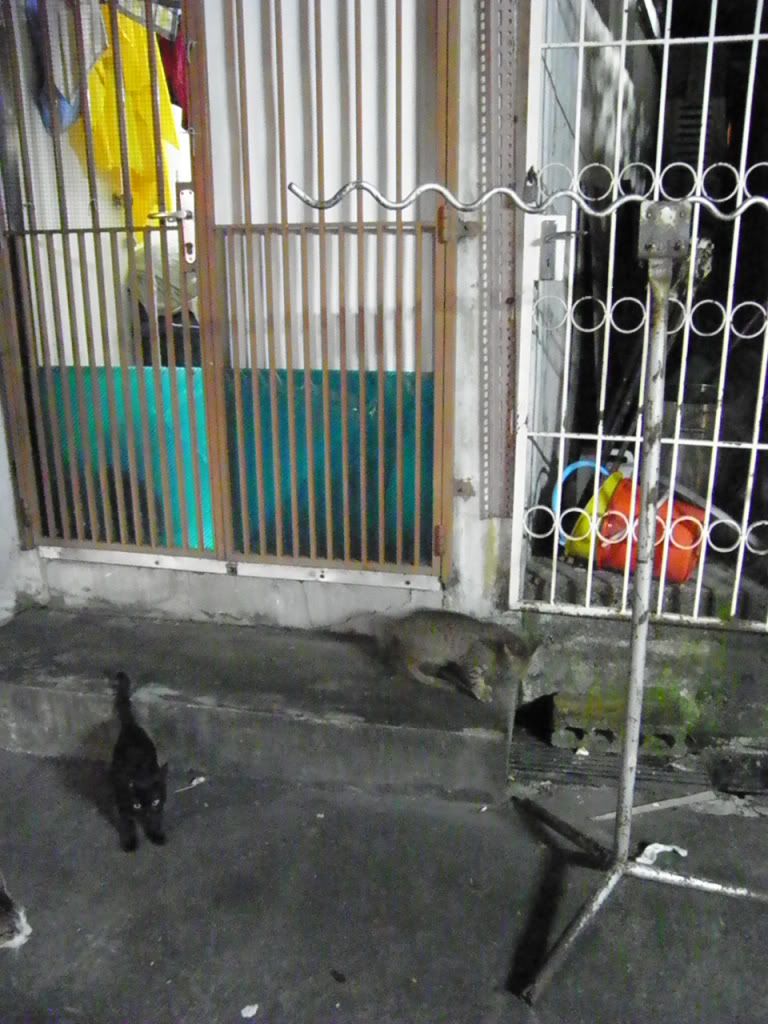 Back doors to workers' quarters
The human traffic here is quite high consisting of all kinds of characters, including the one that kicked our cat trap. Some are using the alley as a shortcut, some also stop to pray to the deities outside the gambling den.
Cat, at outdoor altar
We count a remaining of 4 cats un-neutered, including the mother cat, excluding the sick male tabby. But these cats have a very varied roaming area and would probably move off even further now that the neutered cats have been returned to the site.
Instead, we are in the midst of investigating other cat colonies reported at the same food district of Geylang, the odd lorongs.
This round of TNR cost us $390. Our Sterilisation Fund currently stands at $582.20 before we pay the bill. This leaves us with insufficient funds to carry out our next TNR at the other odd lorongs of Geylang. Do consider our Sterilisation Fund in your giving. To give, deposit to our bank account POSB savings 188-52652-7 and text/email Elaine at 90880675/elaine@lovekuchingproject.org to indicate that your gift is towards our Sterilisation Fund.
Meanwhile, here are the mugshots of the 7 cats we neutered.
Tabby
Tabby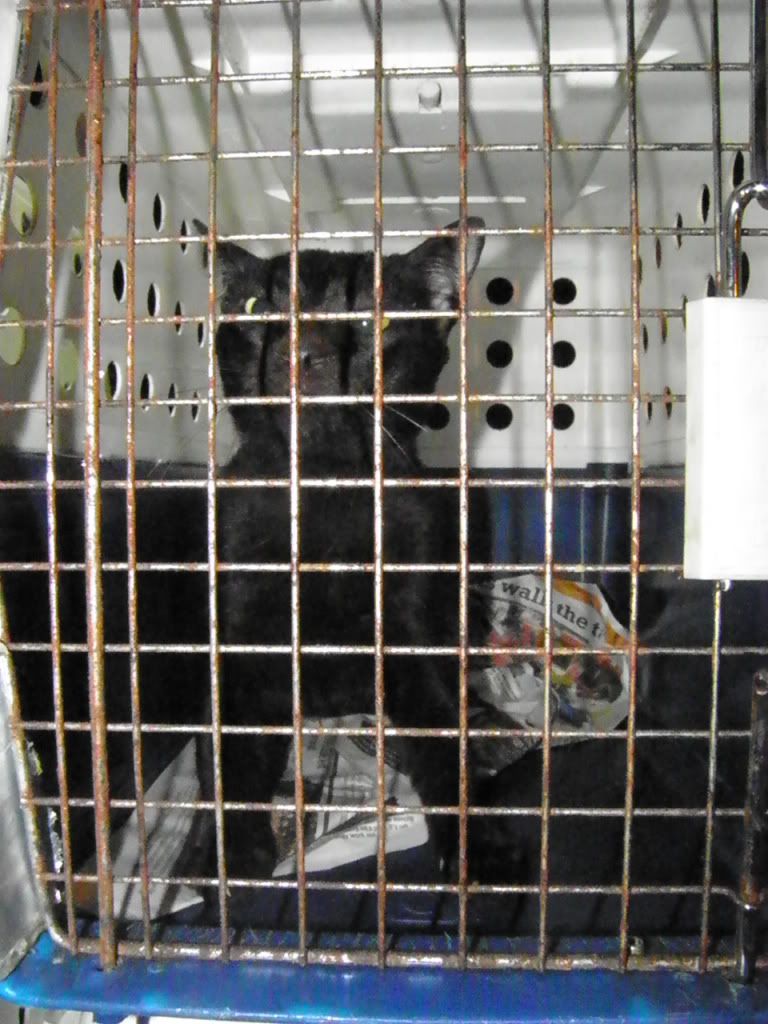 Black
Black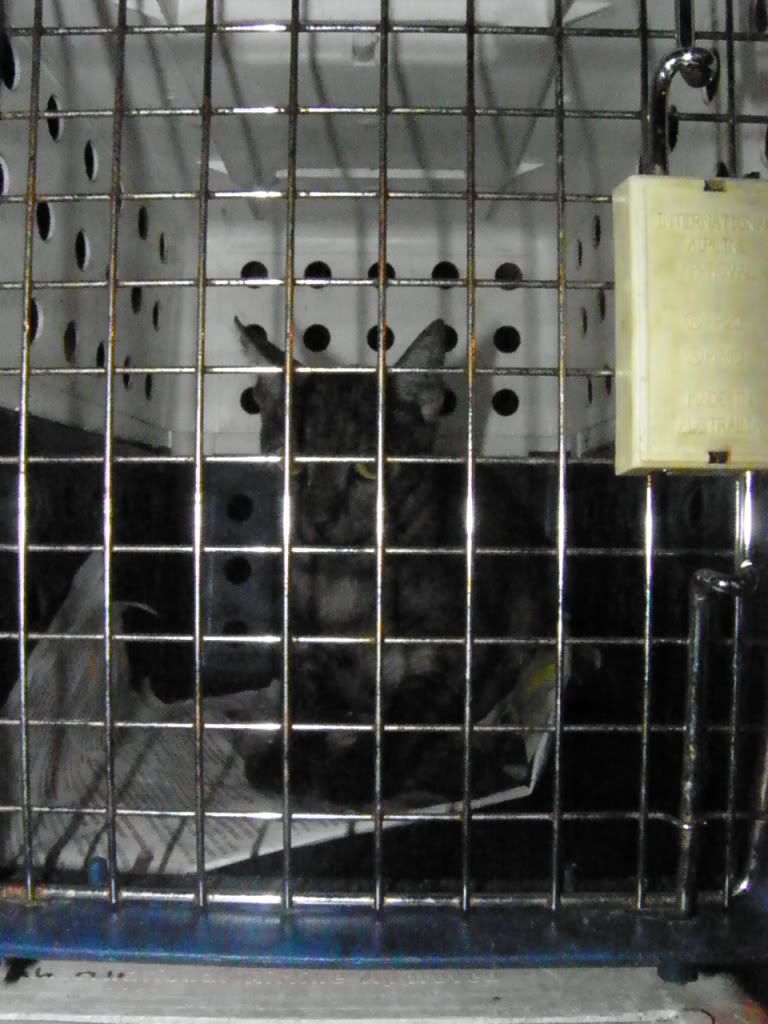 Silver shaded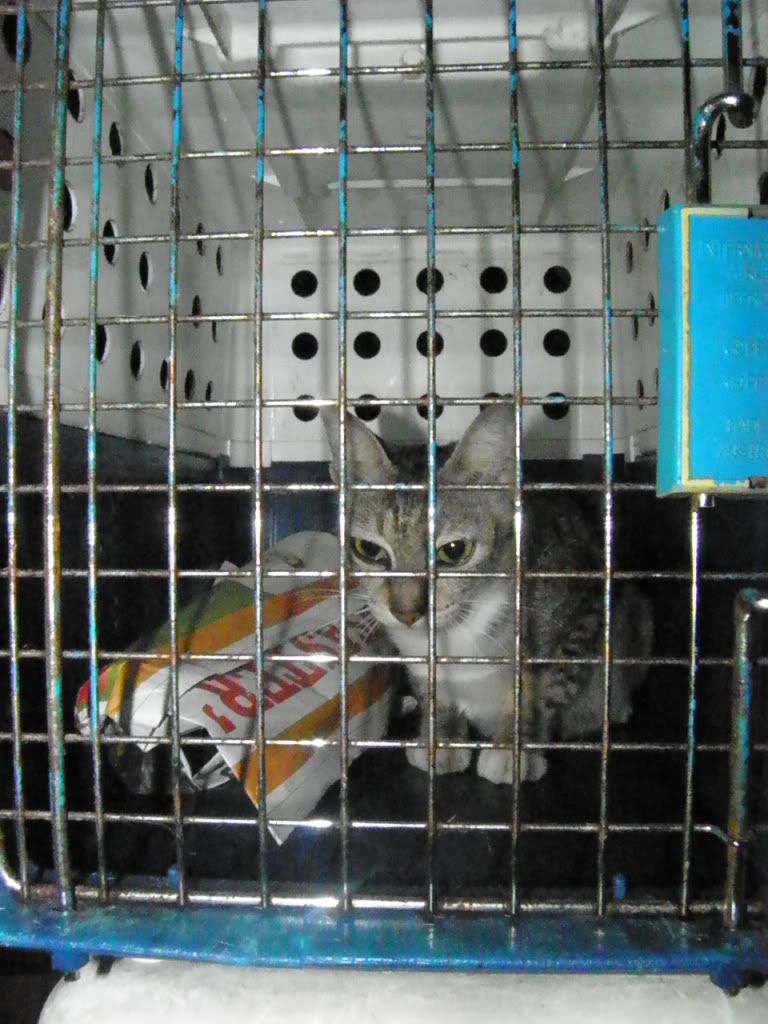 Tabby/white
Tabby/white
Great start, thanks to our volunteer @wisheswithwings. We look forward to more projects that would make a difference for stray cats in 2012.
Give financially to our cause by depositing to our bank account POSB savings 188-52652-7
Sponsor a foster kitten's vaccination through our Sponsor-A-LoveKuching-Cat Scheme
Give food at charity rates through our corporate sponsor The Water Dish