Spreading the love of cats to those who don't have it or don't know it fully. We are after all, about loving the cats in our lives and neighbourhoods!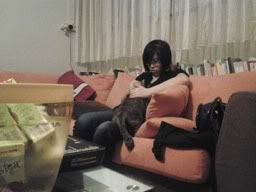 Have cat on @dinnie's lap, never alone!
The 'forever alone' title of the event came from this internet meme:
Depicting folks who have no human companionship
So we decided to organise a tweetup for folks to party with cats, cat cafe style, with play, food and drinks, cat treats and camwhoring with the kitties.
Here are the highlights of Tuesday's party.
Scooter, Kitten IC Emeritus, acted as bouncer at the door –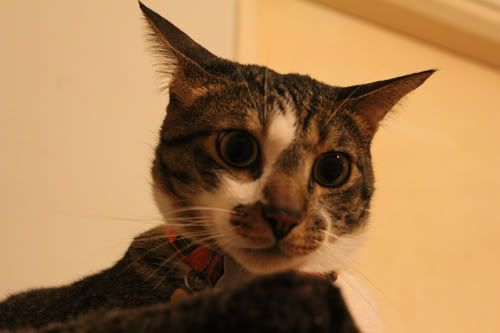 "I may look cute, but pay cover fee in form of treats thanks."
And then the cat love started!

Valentine's day cat party from seriouslysarah on Vimeo.
Yes, Sayang our mascot demonstrated a Maru.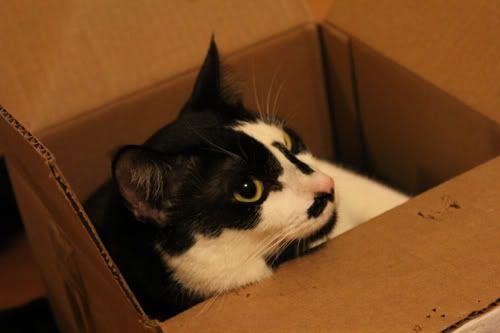 "Maru is seriously overrated. Hmph."
Chanel showed her typical "I love all humans" demeanour to everyone.
@sailesh88 giving treats to the kitties, Angel Apple Glazed Lamb!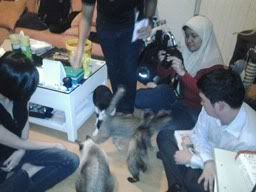 Every cat gathered in a frenzy for treats
@ivyyt fell in love with Lenny who is still nursing his flu' and on antibiotics.
Lenny, take picture okay?
Lots of people have no resources or ability to adopt a cat at this current point in their lives. Some are more dog people. Some are merely neutral. But we spread the love for cats that night, nearly converted @auturmis who said that he was more of a dog person but our silly Sealy (Kitten IC) had captured his heart. Everyone spread the word on our work, and all in all, we can say it was a great Valentine's Day!
Thank you for partying with us! And to Sarah our Communications Volunteer who made the lovey video!
Have cat, never alone!
Give financially to our cause by depositing to our bank account POSB savings 188-52652-7
Sponsor a foster kitten's vaccination through our Sponsor-A-LoveKuching-Cat Scheme
Give food and litter at charity rates through our corporate sponsor The Water Dish