Adopt a shelter cat… so we have 3 cats for you to bring home! (i.e. not kittens anymore.)
If you cannot adopt, do share this post with your friends because someone you know may be able to.
Adoption fees for local cats are at $30, and you can enquire on adopting them by contacting us with answers to these questions.
Our adult cats are still very kitten-like in nature. They have the playfulness and affection-overload of kittens but are not as hyperactive and destructive as younger kittens. They are well trained, have all their kitten booster shots, and are neutered. If you need a kitty that is independent and will shower you with affection when you are home, Echo, Chanel and Napolean are THE cats for you.
Echo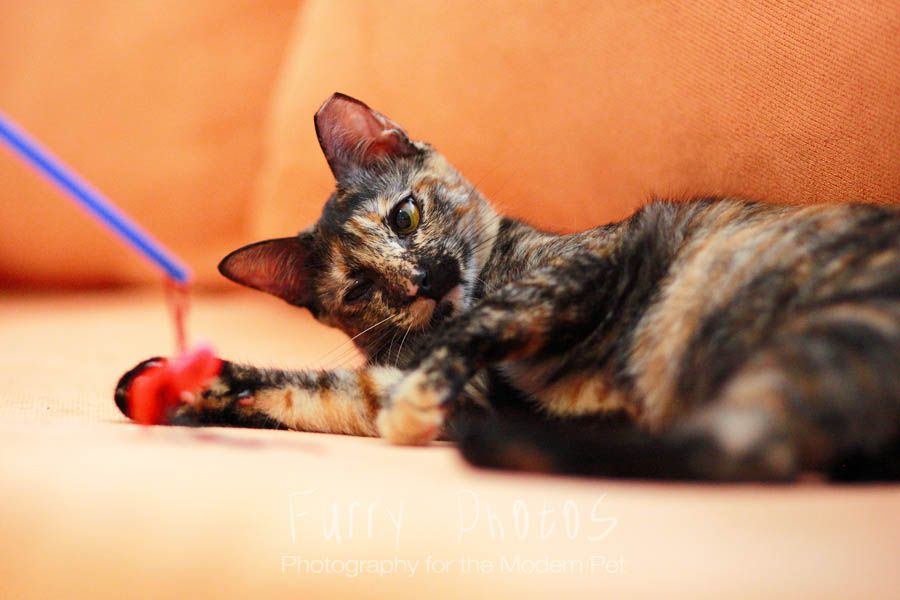 Recovered' after a few rounds of meds (taken by Furry Photos)
Before she turned 1 year old
Echo may have an odd-looking eye but she can see perfectly well. She is the perfect cat in so many ways. She is manja and loves to rub and purr and knead on you. She never gets violent. She doesn't like to be hugged so much, but sometimes she will come to you for hugs – in a purring frenzy. She knows what house rules are – no scratching on furniture or jumping on tables or countertops. She hardly needs to be disciplined at all anymore. She responds to treats very readily, always the first to come to you if you have some treat jar opened! She used to wake us up too early when she was younger, but now she knows that when sleeping next to humans, let them sleep! She is quiet and not overly vocal. Independent and understands that humans cannot always be around for attention. Unafraid of visitors, but doesn't enjoy unfamiliar locations so she definitely does not need any walks outdoors!
Chanel
When she turned 1 year old (taken by Kevin from Cake Images)
Chanel today
Chanel is another perfect cat. She is independent yet very, very affectionate. She loves to purr, loves to be carried and held, loves to rub against you. Extraverted and independent, does not need that much attention but loves it when she gets some. She is not very vocal but loves to mew at us when we scold her for breaking a house rule like climbing on a table. Yes, she is very good at acting pitiful! But she eventually responds to verbal discipline. She is very good at taking care of other kitties – always grooming whichever kitty she is cuddling with. She stays out of the way of older cats (our own) that don't want to be disturbed and knows her boundaries. If you are a visual human: Chanel is very, VERY pretty. You need to see her to realise it. Her secret skill: killing cockroaches – she is, as they say in video games – a top frag killer when it comes to pest control!
Napolean
Napolean in quarantine for flu'
Napolean (spelt this way for easier local pronunciation) is one hearty chatterbox! He loves to meow at you to say hello or just to let you know you are on his mind. He also meows just before canned food time! He loves hugs, as you can see, and loves to rub and purr against you, a total manja pot. He also likes playing and is responsive to toys and loves to run and playfight with other kitties. He currently needs to be quarantined while at our place because we have immuno-compromised kitties but he can be in a home where there are no very young or sick kitties around. He also does not need any medication, and merely needs wiping of his eyes if ever they are teary. He is independent and understands that a human needs to do human things like work, and can survive well in a single-cat household too, even with a busy human. We need Naps to be adopted as soon as possible because while he is at our foster home, he is in a pen that is not big enough for an active and lively cat his size.
So do spread the word!
Give financially to our cause by depositing to our bank account POSB savings 188-52652-7
Sponsor a foster kitten's vaccination through our Sponsor-A-LoveKuching-Cat Scheme
Give food and litter at charity rates through our corporate sponsor The Water Dish
Be Sociable, Share!