We had the recent fortune of talking to a cat angel who is an accountant. You may not have noticed this but we haven't been publishing our annual reports as frequently these past two years, nor updating the realtime bank and cash balances on the blog. All our books are here with us, paper trails and all, we just didn't arrange it for publishing.
None of the Love Kuching folks are numbers people really, we are sheepish amobout it, but we tried our best and often we end up having to do other more pressing cat things. Which is not good enough of course, so we are on the prowl for another human (volunteer) who is good at admin and accounts so we can publish the annual reports we missed, retrospectively. In the meantime, you can still access our FY 2010 annual report. And always remember that as donors, no matter when, our books can be perused if you request to see them.
In the meantime, so that the non-numbers-orientated humans here won't lose hair and sleep, we are going to put up our monthly bank balances (cash in bank) with indications of which partition funds the go to or originate from in a simple one-glance format once a month. This statement will not reflect petty cash though, which we use mainly for adoption fees collection and purchase claims.
It is a simple screenshot off the DBS website. Less work for us in the meantime and also easier for you to have a one-glance. Win-win situation! We like!
Here you go, January 2013 Bank statement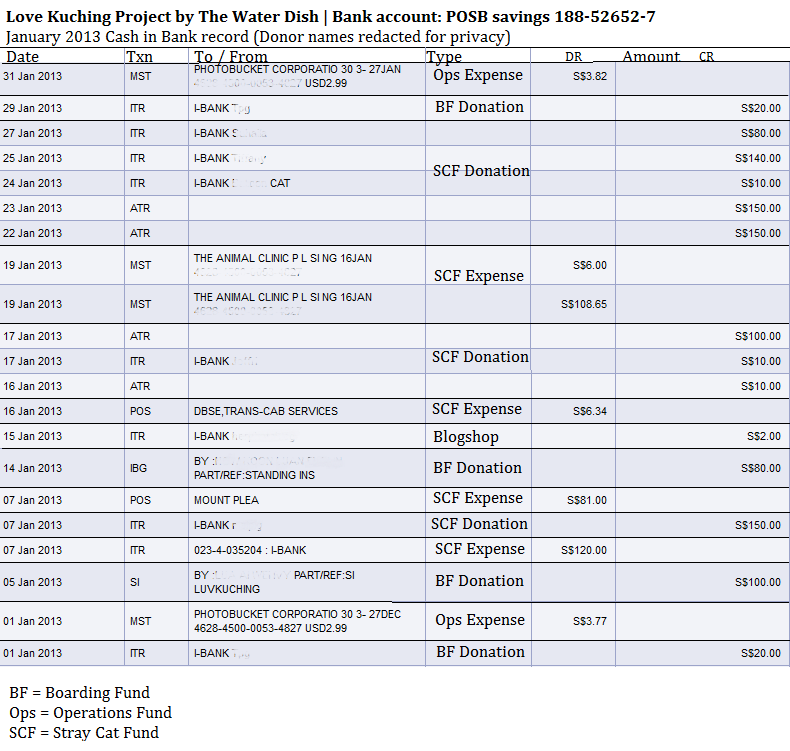 Any questions you may have about the cash in bank January statement, do let us know!
To become a monthly giver, here is how.
To give a one time donation, here is how.
To be the human we are looking for, accounting trained and good at adminstration, bookkeeping, email us.