On 2 Aug, Cubby was renamed Moonshine when she was adopted by Celine, a mom to two human kids.
Moonshine is now well adjusted to her new home, accompanied by Grandpa when the others are at work and school. She is still her usual self: affectionate, always purring and looking for company.
She got spayed yesterday and is recovering well. Her mom had made the appointment for her sterilisation at their nearest vet when Moonshine had settled in. Which she did by the second day! Ate her food, and started accompanying her new mom around the house. We are glad Moonshine loves her forever home!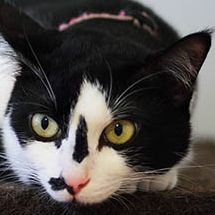 Make a financial gift via a deposit to our POSB savings account 188-52652-7. Find out more.
Become a monthly giver to help ensure our rescues continue getting their needs met.
Feed and provide litter to the cats we foster via our corporate sponsor The Water Dish.
Follow on us on Instagram, Twitter, Facebook and Pinterest.