Edit: All 4 kittens have been vaccinated and vet-checked. Charley has been adopted.
Celine's kittens are ready for adoption!
"Please give my babies a forever home before I return to the streets!"
Estimated birth date of the CCK kittens is 23 August 2013. This means they are now 6 weeks old.
While yet to be vaccinated (we can only vaccinate them at earliest 8 weeks of age) they have shown themselves able to eat both wet and dry food on its own, as well as use the litter box independently. When they first came to us they had the flu' but due to quick and aggressive intervention they are now flu'-free!
Carey and Kimmi are boys, Kieran and Charley, girls. They are very independent, learning very fast where everything is meant to be, especially the oldest, Kieran, who is also very adept at climbing and jumping. They are also very vocal, and love to explore. Kimmi the youngest is less adventurous, preferring to sit quietly and watch the world go by. All of them prefer playing with one another than with toys. In other words, live play mates for this bunch!
Kieran, the most active girl
Carey, slightly milder version of Kieran
Charley likes exploring new hideyholes
Kimmi, the youngest kitten
Being this young, their personalities of course have room to develop. They are however used to being handled by humans and are considered extraverted, except Kimmi who is a little more shy. They are quick to learn and on the agile side. Their father is definitely outgoing, and cat personalities are formed by both the father's genes and their socialisation. They are also used to being surrounded by other older cats, and are very sociable kitties.
"We meow like our father, which is A LOT!"
"The uncles and aunties here give food give chin scratch, ok we shall LIKE ALL THE HUMANS."
"Adopt us, you must."
Interested in adopting them? Click here to see how, or see right side bar under 'How to adopt'.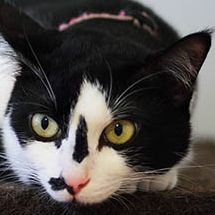 Make a financial gift via a deposit to our POSB savings account 188-52652-7. Find out more.
Become a monthly giver to help ensure our rescues continue getting their needs met.
Feed and provide litter to the cats we foster via our corporate sponsor The Water Dish.
Follow on us on Instagram, Twitter, Facebook and Pinterest.