Last Friday, in the course of Andy's day job he came across these stray puppies without a mum in Kranji. They were covered in some kind of oil as it is near an industrial area.
Unfortunately, being mid-day at work, Andy could only rescue one and triage called for the smallest and the one covered in the most oil to get rescued immediately.
We have decided to keep this puppy permanently at Love Kuching, as his temperament suits the cats very well! His name is Scotty, and he is very obedient, as most street dogs are. The cats now get a chance to learn doggie socialisation, making them even more adoptable. His new siblings, Sayang, Scooter and Sealy have more or less accepted him, and the usually fierce Scooter seems to prefer Scotty over Sealy as a brother.
For the rest of the puppies, we alerted SOSD to the case, but they are unable to carry out a rescue and foster project right now due to limited resources. Being full ourselves, neither can we. So we need your help.
What you can do:
Help with the rescue and foster of one of these Kranji puppies. Andy knows the location, and can arrange transport for the puppy to your home. If you can foster, SMS Andy at 91037773. You can follow Andy and the transport to Kranji to help in the rescue (preferred) or we can transport the puppy to your home. You will need to bring the pup to a clinic for his shots.
Once fosterers are available, we will call for donations of dog food, and funds for vaccinations, so that the puppy can be rehomed.
We will thereafter help post the puppy on online channels to get interested adopters to contact you.
If you cannot foster, but have transport, you can also offer to feed the puppies. Again, contact Andy for the specific location of the puppies. We cannot post the map online to prevent pest control agencies from knowing there are stray dogs there. The climate for stray dogs in Singapore is far more hostile than that for stray cats.
Please help get the word out so someone who can foster or feed will be connected to this need. Click a share button below to help boost the signal for this appeal.
The puppies are currently about 2.5 months old and can eat food on their own. Scotty has been very easy to train and is quiet, so we believe his siblings' temperaments will be similar. So far, Scotty has been respectful of cats who don't like him very much, only initiating contact with those who have tried to make friends with him first. Being the same size as the cats, he heels often when they investigate him so they will not find him larger than themselves, which is great! He also does not engage in rough play, and definitely does not attack the cats. Andy and Elaine are taking his training and socialisation seriously so he will remain cat- and human-friendly throughout his lifetime, and can be a good resident staff dog.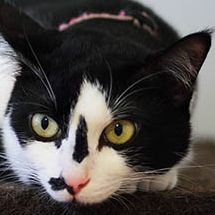 Make a financial gift via a deposit to our POSB savings account 188-52652-7. Find out more.
Become a monthly giver to help ensure our rescues continue getting their needs met.
Feed and provide litter to the cats we foster via our corporate sponsor The Water Dish.
Follow on us on Instagram, Twitter, Facebook and Pinterest.