Last week, we got a call from cat angel Catherine regarding a kitten that got stuck under a generator, and after a harrowing rescue, was found to be covered in glue. This kind of glue is usually the result of kittens being caught on inhumane glue traps for rodents. Nova was sent over to our foster space that same day.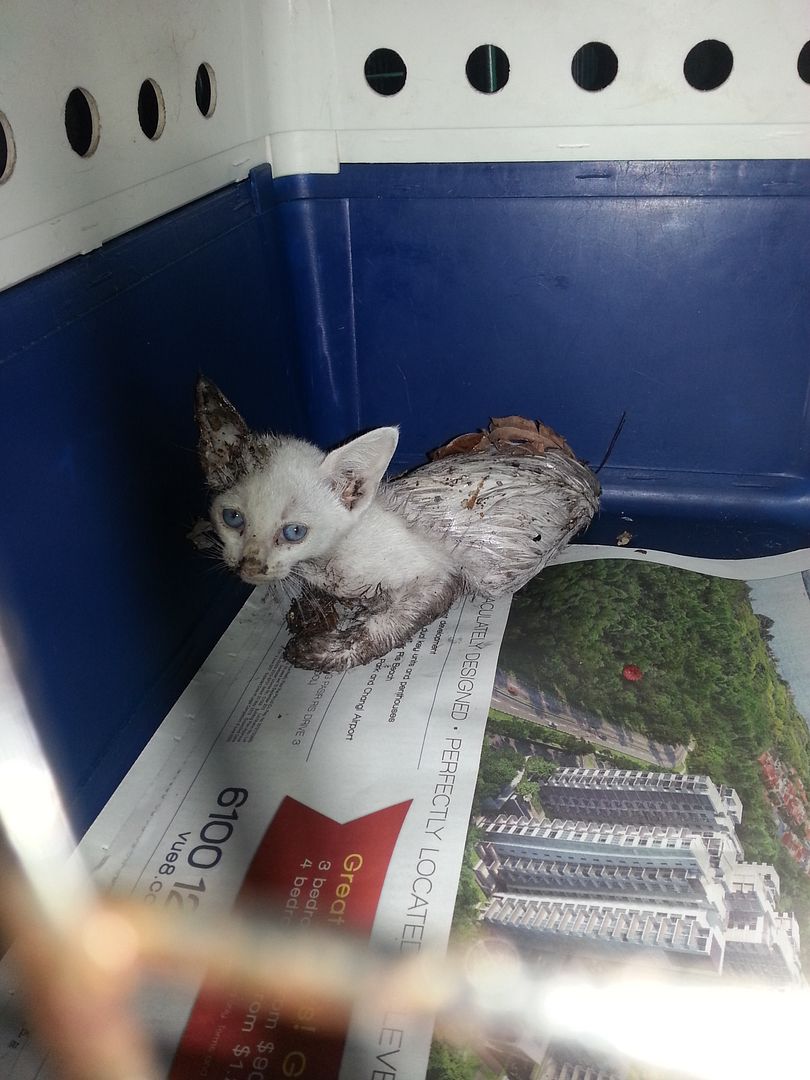 En route to our foster home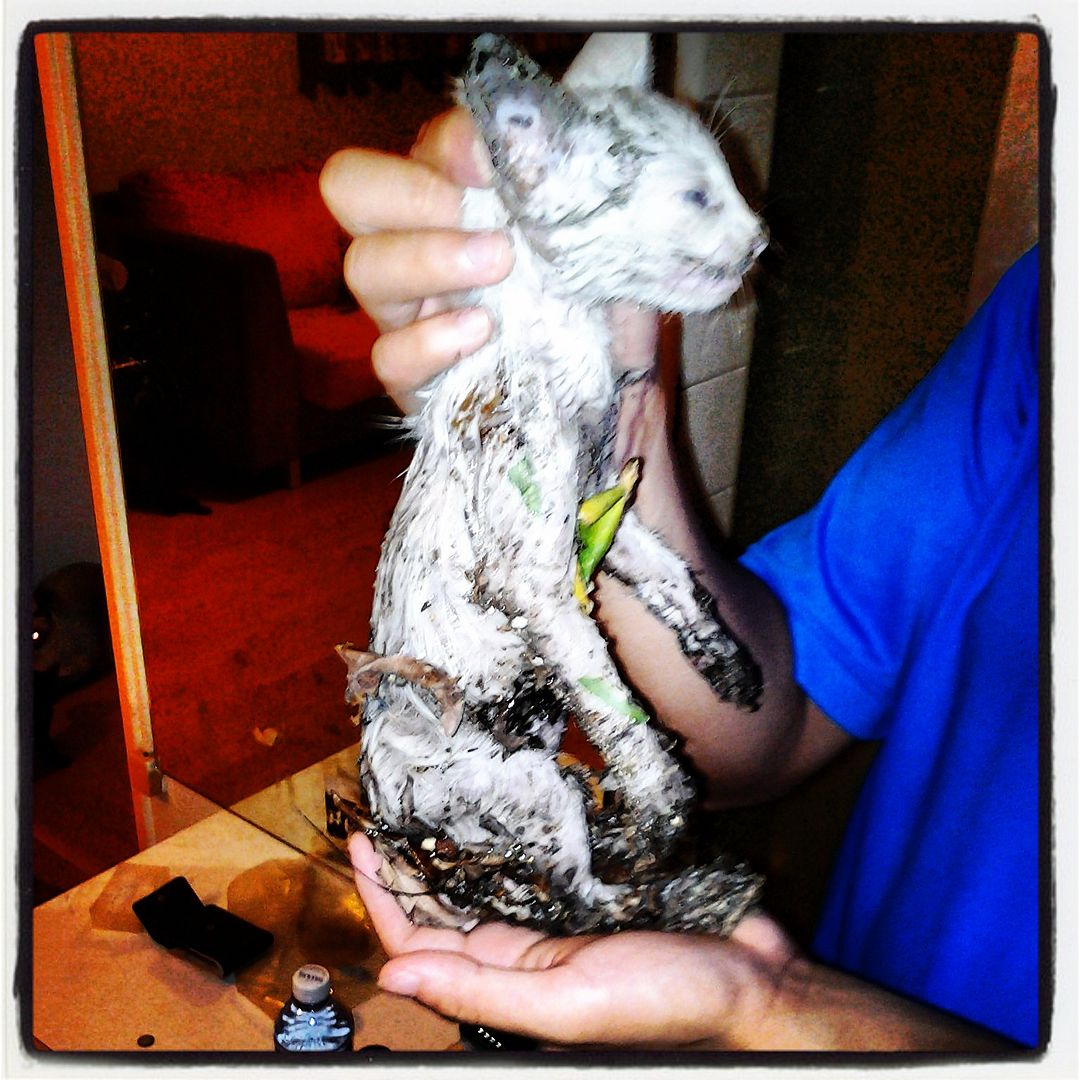 Debris stuck to his fur. Thankfully no visible torn skin
Catherine found a suitable adopter for Nova already, but this kitty needed a lot of rehab, and also house training, first. He was a gentle kitty who loves other cats older and younger, even Scotty the puppy. But he was unable to eat on own despite being 6 weeks old. He was also quite traumatised at first, obviously.
Scared at first. Diffused geranium essential oil for him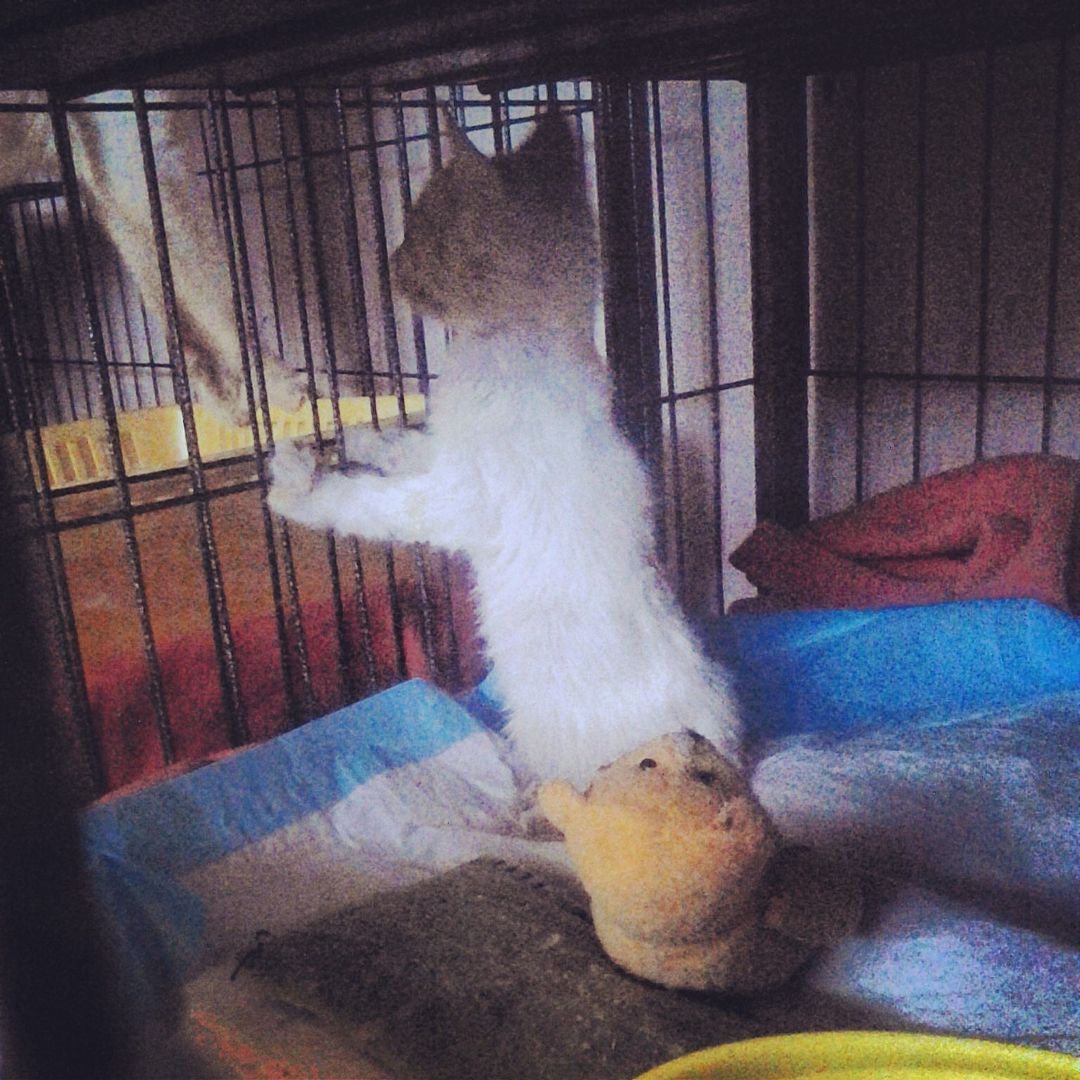 Penned alone at first, but he sought out his neighbour
Glue needs to be removed with olive oil baths, but his temperature was not stable, so he couldn't be bathed for too long, and needed shorter baths daily at first. We also clipped away fur that was very clumped together, so he has some bedhead fur now.
Bathed with olive oil, shampoo, powder daily
Eventually his fur got much cleaner, and after needing handfeeding at first, he got together with Celine the current foster mom available and suckled on her. He also made friends with Tuna and Timon and even helped groom them like the older brother he found himself to be. (NB: Timon, the runt, later passed away from Fading Kitten Syndrome, something we always feared would happen with him as he was sickly from the get go).
Nova after being nursed by his foster mom
Good friends with Tuna who is younger
Learning to eat solid food already
Fur no longer requires daily baths
Nova will go to his new home once we ascertain he can be independent from his foster mom.
Many kittens that get trapped on these glue traps, which SPCA is routinely advocating hardware stores to stop selling, end up getting skinned, or starve to death on the traps. Also, these traps very rarely actually catch any rodents. Usually kittens and lizards are the ones found on such traps. The glue is also toxic to humans.
How can you help prevent more of such accidents in future? If you live near any hardware stores, advocate for the sale of more effective and humane rodent control traps. Even the older spring operated traps are more humane and successful at pest control. At your workplace or private residential estate, speak to the building manager about stopping the use of glue traps. One of our cat angels Vivienne has shared a sample letter to hardware stores to help you in your advocacy work. Yes, you, an animal welfare advocate! Because we all can do our part.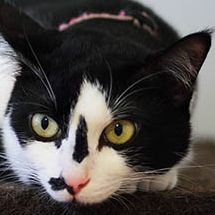 Make a financial gift via a deposit to our POSB savings account 188-52652-7. Find out more.
Become a monthly giver to help ensure our rescues continue getting their needs met.
Feed and provide litter to the cats we foster via our corporate sponsor The Water Dish.
Follow on us on Instagram, Twitter, Facebook and Pinterest.