This blue-eyed boy was a mess when he first came to us as the first glue-trap kitten from Novena. His Instagram photo made the newspapers and garnered a lot of attention, especially since his sister Dumpling was found in the same predicament not long after.
But look at him now.
Nova has been vet checked and vaccinated and is in good health. He suffered a bout of flu' but he has recovered from it after medication and supplements. Dewormed and de-fleaed, also litter trained and able to eat and drink independently.
He is very, very playful, so it is best if he will go to a home with a playful older feline sibling or a dog, or be adopted with one of the other kittens we have available for adoption, otherwise he will be very bored, and demand a lot of human playtime, about an hour a day is not tiring to him at all.
If you are keen to adopt Nova, please see right side bar under 'How to adopt' or click here.
Cannot adopt? Click one of the share buttons below to spread the love!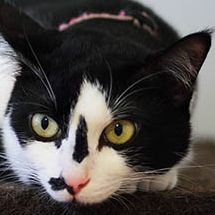 Make a financial gift via a deposit to our POSB savings account 188-52652-7. Find out more.
Become a monthly giver to help ensure our rescues continue getting their needs met.
Feed and provide litter to the cats we foster via our corporate sponsor The Water Dish.
Follow on us on Instagram, Twitter, Facebook and Pinterest.