So we had a volunteers party yesterday night, accompanied by 2 members of our soon to be formed Committee for registration purposes. We had loads of fun!

Gathering of likeminded, committed volunteers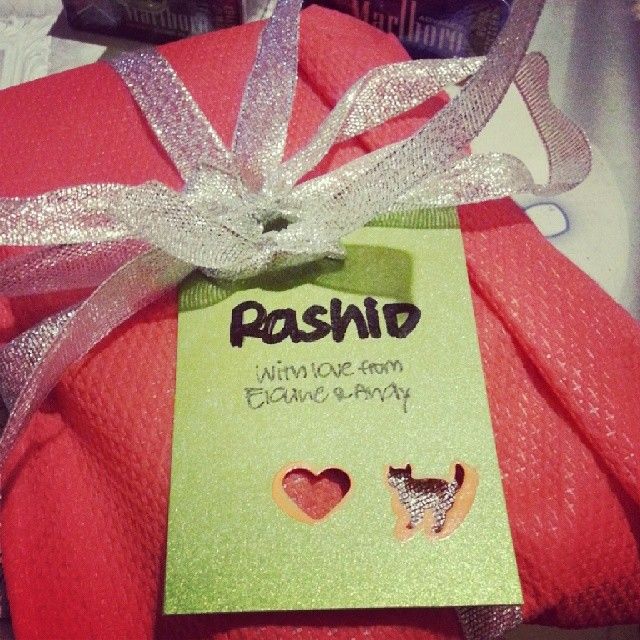 We can has presents!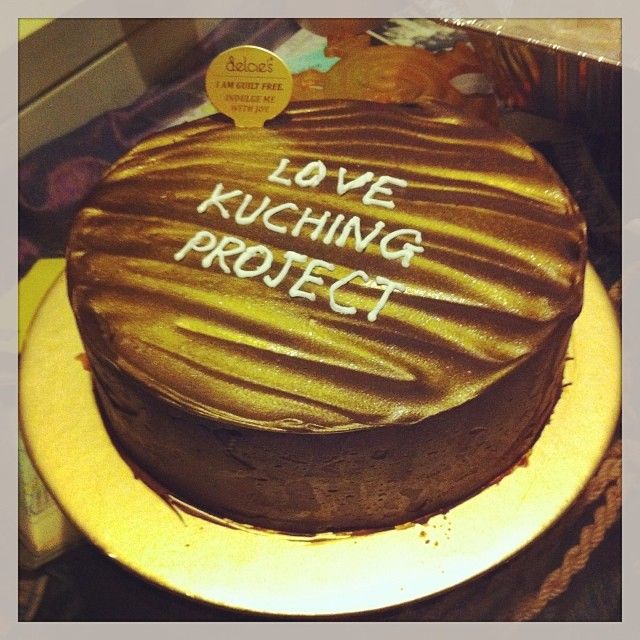 And vegan cake!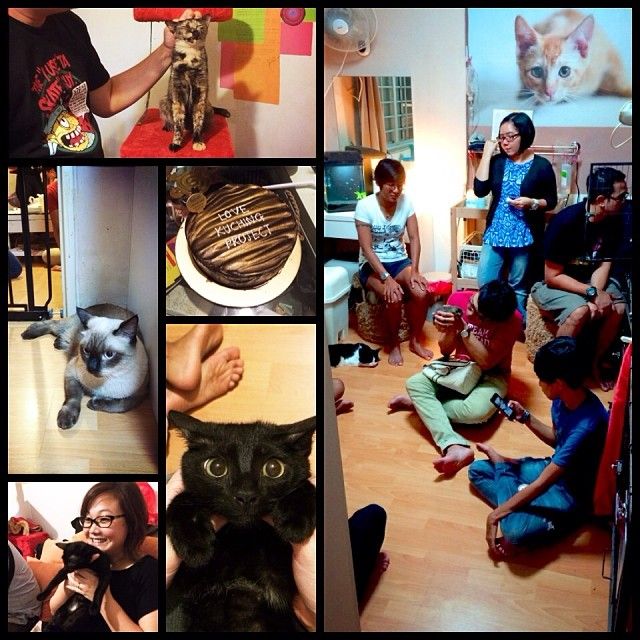 General catty madness all round.
We have been much busy preparing for the new year, simply because we want to better love the cats in our lives and neighbourhoods. Andy and Elaine identified gaps in the cat rescue industry and brainstormed how Love Kuching and our corporate sponsor The Water Dish can help fill those gaps. All we are is a group of cat lovers that want to help others be better cat lovers, and create new cat lovers too! Last night, the plans we were going to launch in 2014 was shared to all the Volunteers with portfolios at our holiday party. Executive Assistant Yi Shu has a written a quick summary of what else was shared for #LKP2014:
"Firstly, Love Kuching Project has applied to register under Registry of Societies – with a central executive committee of 10 members who'll hold voting rights on things happening in the organisation. The application hasn't been approved, yet… *crosses fingers* and we hope it goes through soon!

"Secondly, we'll be having two new outreach programmes, one of which will focus on cat therapy for the elderly in 2014 – managed by our outreach people Camellia and Nicole! Further details will be announced shortly – with a call for volunteers, I guess!

"The second outreach programme due to launch in 2014 will be on cat behaviour. We're no Jackson Galaxy – but since many people have come to Love Kuching for tips on cat care and cat behaviour, we thought we'll do proper consultations for people and cats who have problematic cat behaviour. We won't be charging fees, but we'll ask people to donate. This will help stop people from unnecessarily putting down cats or abandoning problem cats on to the streets. Again, further details will be announced!

"Thirdly, we'll be restructuring and instituting process and protocol into our Stray Cat Fund (which will be renamed as well). Cat Welfare's Special Appeals is having not so easy a time garnering funds for many open appeals for cats in need, and there are no funds in Singapore that will help cat rescuers who have the means to foster sick cats but don't have the cash flow to pay, so this will certainly be much needed. I will be in charge of managing the process of dispensing funds as well as liaising with rescuers on a per-case basis. We'll announce further details as soon as we can!

"Finally, we are extending Trap Neuter Release programs to condominium estates by liaising with estate management companies and offering TNR as a humane alternative to culling for control of the cat population. Ash, our Sterilisation Volunteer, will be in charge of this project, as will his counterpart Liyin. Nice."

By Ng Yi Shu, Executive Assistant.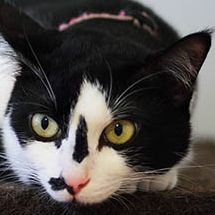 Make a financial gift via a deposit to our POSB savings account 188-52652-7. Find out more.
Become a monthly giver to help ensure our rescues continue getting their needs met.
Feed and provide litter to the cats we foster via our corporate sponsor The Water Dish.
Follow on us on Instagram, Twitter, Facebook and Pinterest.