[Warning: Some images may be considered graphic]
Friendly comes from rather unknown origins, and thus his story took a long time to tell, but here it is, finally, in its complete version.
This is Friendly when he first arrived in our foster home on 23 Jan 2014.
Very fearful, although not aggressive
This was his story before he came to Love Kuching:
He was rescued by his feeder and brought to a vet when his ear started showing signs of inflammation. However, after that, his feeder disappeared, leaving the clinic in a very difficult position: what treatment options did the rescuer want? Who was going to pay for any kind of treatment or diagnostic tests? Since no one was around to help Friendly make these decisions, the clinic vets went ahead and did the bare minimum to save Friendly's ear, which was at the time already necrotic (rotting) and had to be re-sectioned. It could have been a form of cancer, squamous cell carcinoma (based on clinical signs), but since no one was around to decide on or pay for a biopsy, we will never know for sure it was cancer or not.
Friendly's vets approached other rescuers who might know the feeder uncle, but they also could not contact him. In the end, these rescuers tried to foot most of the bill, although they also were not able to make decisions for Friendly since the bill was already very high, Friendly already having stayed at the clinic for about 3 months by then.
We were out of space, and so Friendly was waiting for a cat suite to vacate before he could move here and out of expensive veterinary hospitalisation.
Finally, we had the space for him and got him to stay with us. The day after he came here, we brought him to the vet to see Dr Dawn Chong.
Friendly at The Animal Clinic
At the time, because no real diagnosis had been made, he was only on topical antibiotic steroidal ointment. Dr Chong and us decided we had to know more about Friendly, so much investigation started, while Friendly in the meantime received a steroid jab to relieve the inflammation. Dr Chong also detected that Friendly had a heart murmur.
Friendly in his cat suite
Friendly's ear being cleaned
The steroid jab worked and his inflammation went down, but it started bleeding profusely the next week, he became anorexic and weak, breathing and heart rate were not good, and he had to be given fluids, oxygen and mirtazapine (for appetite). We also syringed him stock, TCM tonic, glucose. He improved after that.
This was the investigation that went on after that first visit we made to Dr Chong:
We called his previous vets to find out what had be administered to him (a variety of antibiotics), and what was his necrotic ear like before they resectioned it and what made them suspect squamous cell carcinoma cancer.
Because Friendly's ear was necrotic, we also looked up a rare but not impossible diagnosis: necrotic otitis externa. It was basically the rotting of the external ear and cases of this was rare in cats.
Dr Chong and us decided to treat Friendly for both SCC and necrotic otitis externa.
For SCC: the only treatment is a form of chemotherapy, an oral drug called piroxicam, that also acts as a painkiller apart from reducing tumour growth. Even without tumours the painkiller effect would already be useful. It has a side effect of gastric upsets, so he takes it alongside a gastric medication, famotidine.
For necrotic otitis externa: the topical treatment would be tacrolimus ointment, brand name Protopic. Also, he would need a different class of antibiotics than what he had already been on before, the quinolone class of antibiotics. So Dr Chong prescribed ciprofloxacin, an oral course, as well as ciprofloxacin ear drops to be used together with Protopic.
For inflammation of his ear, he would need steroids every now and then to control it. Oral prednisolone or a long-lasting Depredil jab suffice very well so far.
By the way, the heart murmur? Much better now, after some supplements of coQ10, magnesium, arjuna, taurine, l-carnitine.
Now, look at that ear: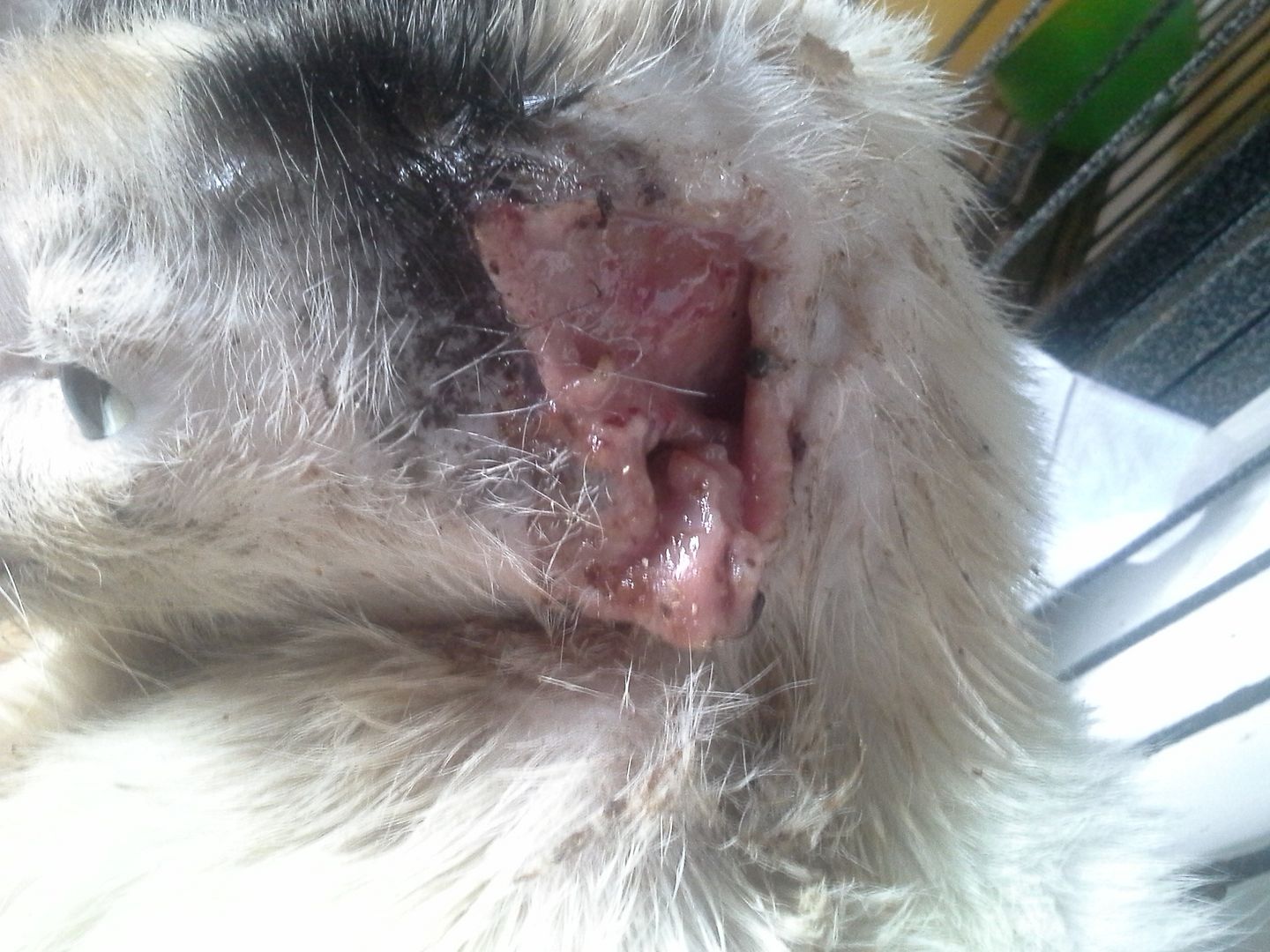 After treatment, Friendly's ear is better!
The good thing about Friendly is that while he looks awful without ears, he loves to eat and finishes everything we give him, even with medications or supplements within. He can use the litter box, he can move, and he will tell you when he is in pain (we got a bite once). He is however rather fearful, and when he is scared, he starts to pee or poo. We will be improving that aspect of his emotions soon with Azmira Fear Essence that our corporate sponsor The Water Dish is donating this quarter when stock arrives. We also give him St John's Wort which helps with his emotional welfare and have also ordered valerian, another herbal supplement for calming.
The only thing is, his Tacrolimus ointment is not cheap. It helps a lot, we haven't seen uncontrollable bleeding in a long time, and when we clean his ear, there is barely any pus or blood. But he uses a tube a week and it is a definite drain on our Veterinary Fund: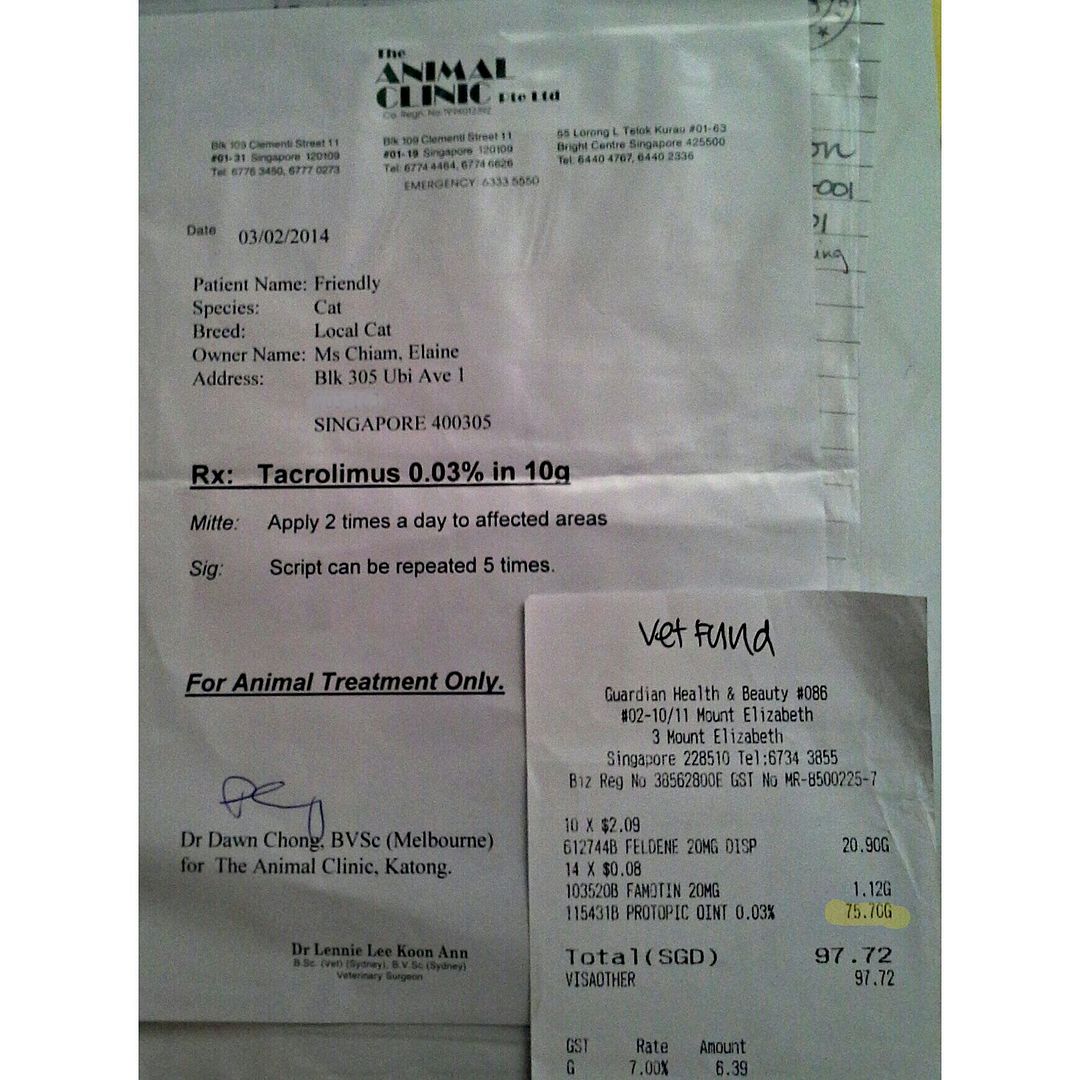 So do consider helping us bolster our Veterinary Fund for future purchases of his medication so we won't (true story) see blood spurting everywhere again.
How to give to our Veterinary Fund:
Make a deposit to our POSB savings account 188-52652-7 and then SMS Elaine to indicate that your deposit is meant for the Vet Fund. We will then apportion it there. If you need us to mail you a receipt do also text us your address.

Another thing we absolutely have to bring up:
Friendly's story is so long, and he failed to get the best and most effective treatment right from the start, is because of a rescuer who had no funds to pay for Friendly's vet bill. This is the exact kind of scenario we want to prevent with our Emergency Response Fund we blogged about before. We want to be there with the funds, with the cat, right from the start, for rescuers who have absolutely zero funds to pay for veterinary fees which are badly needed for the injured or sick stray cat they meet. Read about our ER Fund, and then make a pledge. It will not work without you, and yes, there are more cats out there like Friendly who have nobody making sound veterinary decisions for their care simply because they have no money. Let's do something for these silent voices out there who have no one to pay for their care.
Current fundraising need: Make a pledge to our ER Fund.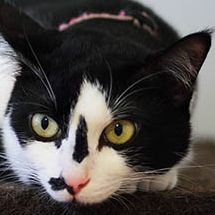 Make a financial gift via a deposit to our POSB savings account 188-52652-7. Find out more.
Become a monthly giver to help ensure our rescues continue getting their needs met.
Feed and provide litter to the cats we foster via our corporate sponsor The Water Dish.
Follow on us on Instagram, Twitter, Facebook and Pinterest.