We held a cat cafe adoption event at our foster space 22nd March!


Our cat café themed event saw 10 people attend to enquire about the cats we had for adoption – Garry, Gurly, Dumpling and Kieran.
Gurly says: Please adopt me!
Visitors also got to have a look at Love Kuching's inner workings at the foster space, including the care of the sick kitties in our foster space.
Our Foster Care Volunteer, Diana, taking care of Yunis
Diana talks about the cats and the stories of their rescue
The winners of our photo competition held last February was presented with their prize – cat care goods sponsored by Dulcetfig and The Water Dish.


The prize winners!
We also had a short presentation on kitten socialisation by our founder Elaine and a short quiz organised by our Adoptions Volunteer, Charmaine.
One of our visitors playing with our cats
Elaine talks about kitten socialisation
Although none of our kitties found a forever home, we managed to have a few potential adopters considering to adopt our cats. All in all, the event managed to bring fellow cat lovers together for a session of cat loving.
More adoption events like these are currently in the works – stay tuned to our Love Kuching facebook page for more details!

Current fundraising need – Make a pledge to our ER Fund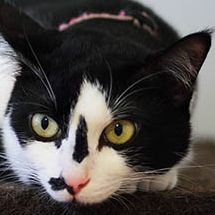 Make a financial gift via a deposit to our POSB savings account 188-52652-7. Find out more. Become a monthly giver to help ensure our rescues continue getting their needs met.
Feed and provide litter to the cats we foster via our corporate sponsor The Water Dish.
Follow us on Instagram, Twitter, Facebook and Pinterest.