Last Friday we brought Lucky and Dumpling to our vet for surgeries.
Lucky has a mouth tumour, and the last biopsy he had revealed that it was not cancerous. In the weeks before the surgery, his tumour had been growing in size, and while that did not hinder him in any way – pain, emotional welfare, ability to eat and drink and groom self, it was a bit worrying. But it then also started to bleed a lot, and get infected even if it was not bleeding away.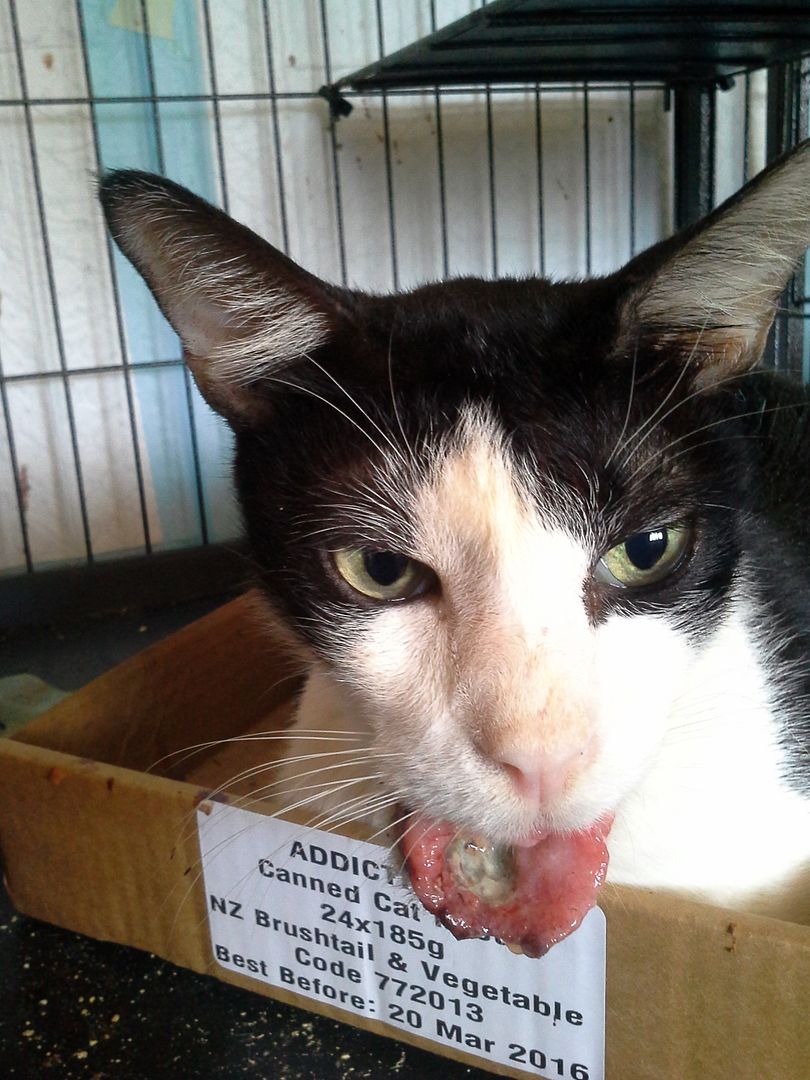 Lucky's tumour before surgery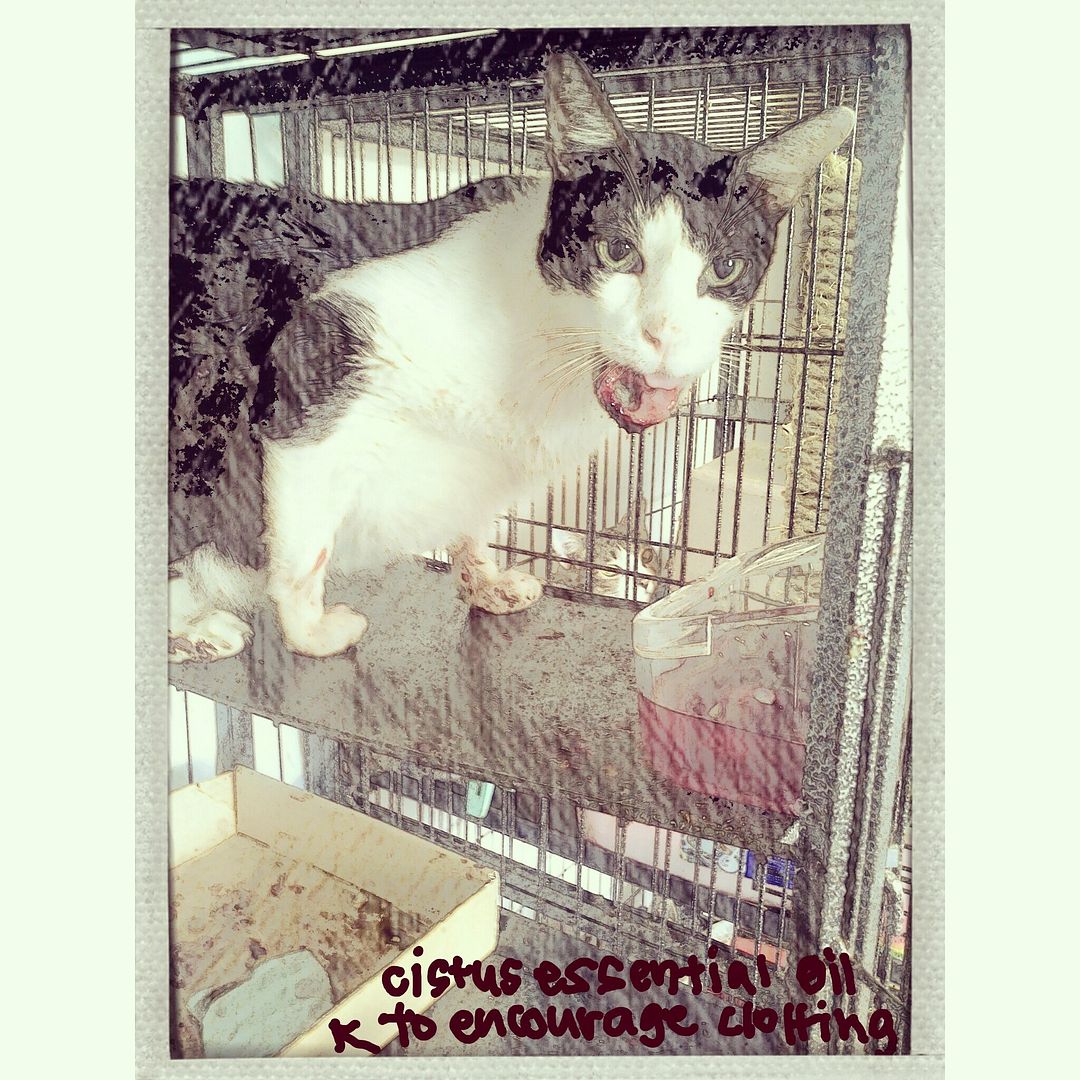 Abstract pic of Lucky, when he was bleeding

We spoke to Dr Chong about what we could do to help. While he was still not in pain and was still eating and drinking, he became very messy. Furthermore, he does not like anyone touching his mouth, he hates it so much so that even if we were trying to clean it, he would be so traumatise more blood would flow out. We ended up using cistus essential oil, useful for blood clotting in haemorrage situations, to help stem the flow till his surgery worked. It was merely dabbed on an aromatherapy pillow we placed in his cat suite but it worked.

The blood loss was not a critical issue, but we ended up deciding to cauterise his tumour and make it less messy looking, and prone to infection. He now looks much better after Dr Chong operated on him. It turned out the tumour had grown to expose even the bone. Much of it has been removed and Lucky now looks much better!
The doctors also had enough tissue sample after the surgery to send it for another biopsy, to see if it has turned cancerous. If so, we can then change his medication and supplements protocol to deal with it. The biopsy results will return in 3 weeks or so.
Lucky is still the cheerful boy he is, easy going (except still picky with his food and supplement choices) and is recovering well. Always wants soup everyday, which we feed him with supplements to prevent inflammation, promote healing and manage pain.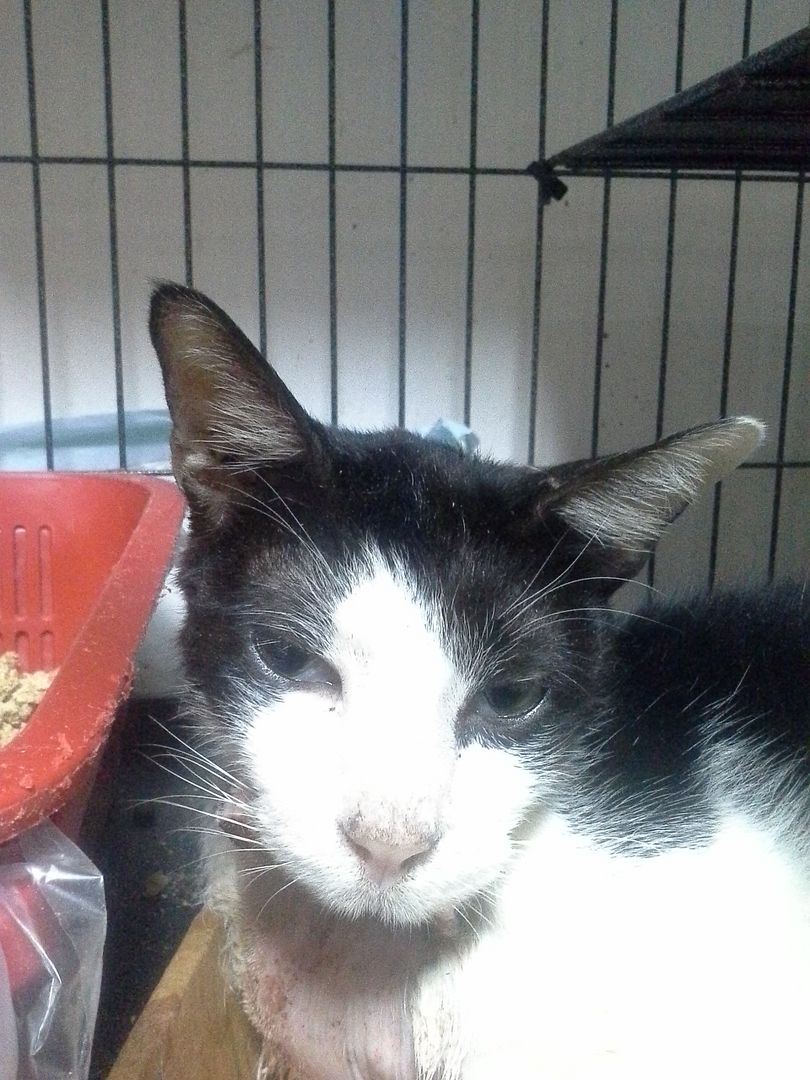 Lucky after surgery
Dumpling came to us because she was caught on a glue trap set by Square 2 in Novena, remember? Came to us with only one eye, and we didn't know the real reason she was a pirate kitty at the time. She has gone through a lot since then – chronic flu' for one, which led to a head abscess – and finally she is this purring furball in our arms when we carry her, even for medication.
She had just turned 6 months old, and to prevent constant tearing in her missing eye socket, during her sterilisation surgery, she also had her eye socket stitched close. We did not want to put her through 2 surgeries so that she would just need to go under general anaesthesia once. During the procedure, the doctors found out that she actually had a very tiny eyeball inside, which means she was born this way – Siamese cats tend to have genetic eye problems – and so it was removed and now she is waiting for her eye to heal into a beautiful scar. P.S. we didn't clip her beautiful cross-Siamese seal coloured ears but got her an ear tattoo instead to mark that she was a sterilised cat.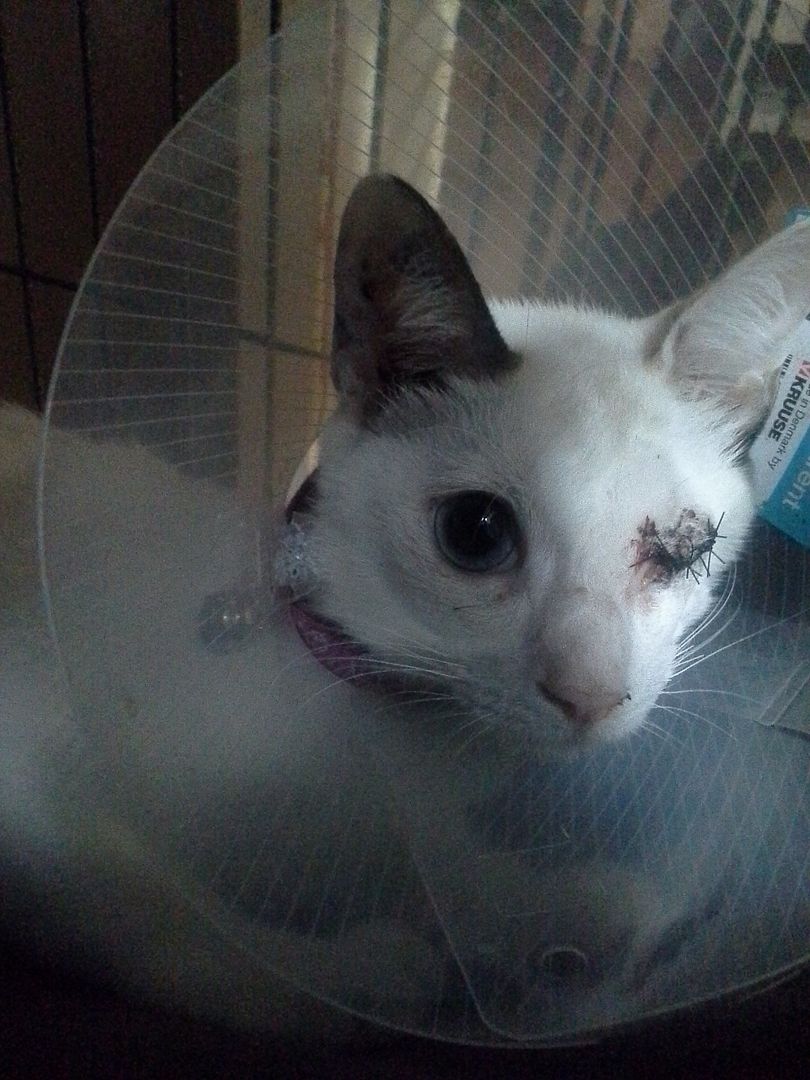 Stitches will be removed in 2 wks

Unfortunately, these 2 surgeries set us back a lot, when our Veterinary Fund is already in deficit. Some cat angels have already given, but we are still not in a healthy financial state right now where we can respond to an emergency if any.
Here are the vet bills of each of Dumpling and Lucky's surgeries:
Page 1
Page 2, includes total with pre-op deposit
How you can help:
If you can help to give to our Veterinary Fund, which we also previously spent on things such as medications to the point it reached a deficit – any amount will do – deposit to our bank account POSB savings 188-52652-7 and email us to indicate you have given to our Veterinary Fund.

Our other Funds are also in deficit – will post a financial update soon so you can give to other needs if you wish.

Use the share buttons below to get the word out – we are in dangerously low cash-in-bank balances right now and need all the help we can get.
Current fundraising need: Make a pledge to our ER Fund.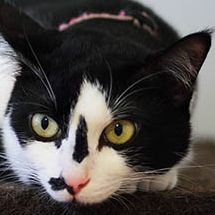 Make a financial gift via a deposit to our POSB savings account 188-52652-7. Find out more. Become a monthly giver to help ensure our rescues continue getting their needs met. Feed and provide litter to the cats we foster via our corporate sponsor The Water Dish. Follow on us on Instagram, Twitter, Facebook and Pinterest.