Spot, the cat with the white spot on his back
We got contacted by the caregivers of this colony of cats at Pasir Ris, Elle and her family, because one of the cats, Spot, a dark tabby white male, was found with a flesh wound at the base of his tail. Because previously another one of the cats here had flea dermatitis and we advised them to buy Revolution for the cats, they spent their budget on that and had no finances to care for Spot's newfound injury. Here we came in with help from our ER Fund, funded by our donors who pledge monthly to this fund for rescuers needing financial help for stray cat rescues.
Spot's flesh wound when first discovered
The wound looked like something that the caregivers could do aftercare for when he went back to the park, or if needed, the family was willing to foster him for a short period of time before he recovered. So we met Elle and family and Spot at our vet, and there we found that Spot's wound is most likely a bite mark.
At the vet during examination
Spot was given antibiotics and painkillers, and because Elle had spotted the injury early, no secondary infection had set in yet, and the wound was easy to manage. The vet said it would heal on it own and would not need surgery.
Elle and her family decided to foster Spot for one week before releasing him back to his siblings at Pasir Ris Park, and during then, his wound was cleaned by them with supplies we gave them, medications applied/administered. He did very well.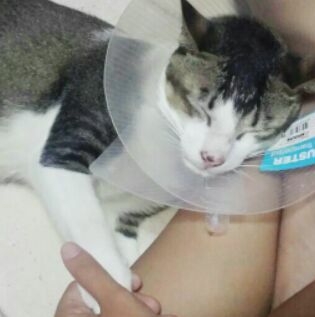 Spot at his caregivers' home resting
Now his wound has healed and he returned back to join his brothers at the park, eating and playing with them happily again. A success story! Thank you ER Fund donors!
Donate to our cause by making a deposit to our Love Kuching Project DBS Current Account 027-905975-3 or via Credit Card
Donate us food or litter at charity rates with free delivery via Pawfection
Follow us on Facebook, Twitter and Instagram