Jerry arrived at our foster home on 15 November, a stray cat that is from Pasir Ris, rescued by Lynn. She sent us photos and descriptions of Jerry's symptoms: he wasn't eating very well, very emaciated. We met Lynn and Jerry at the vet before bringing him to our foster home, to get his condition diagnosed.
It turns out Jerry had gum disease, and he got a steroid and antibiotic jab for it. His heart was okay, and he has no FIV or FeLV, which is a good sign. But upon testing his kidney function, we found out he had kidney disease. He had to go on subcutaneous fluids daily from then on.
Back at the foster home, Jerry was very feral, he didn't eat, and was not easy to administer SC fluids to.
Jerry didn't eat
Worried about him not eating, we decided to hospitalise him and see if being on IV fluids with vitamin B will perk up his appetite. He was so aggressive that they had to sedate him to insert the IV catheter.
Jerry at the vet
By the next day, Jerry had started eating! We brought him back and he continued to eat. We administered vitamin B jabs to keep him going whenever his appetite was down, and tested out which food he would prefer: he had a choice of Addiction brushtail (our preferred choice), Wellness CORE fish (which Julie was eating cos she doesn't like anything else), and steamed pureed chicken. He finally settled on Addiction Brushtail.
He started to feel better after awhile, and eating daily became a norm. Eventually, this aggressive cat became docile, and we could even pat him and stroke him.
He is now also on a phosphorus binding agent for his food (necessary for renal conditions) and we will bring him for a review when he shows signs of improvement.
We are adding supplements to his regime slowly, as we don't want to 'spook' him and make his food taste funky and then he doesn't eat again. So he is now on a basal regime of vitamins and probiotics. He has a bit of constipation so we add pumpkin and psyllium husk to his diet too. We hope to introduce him slowly to the full range of supplements that will help with his kidney disease and gum disease.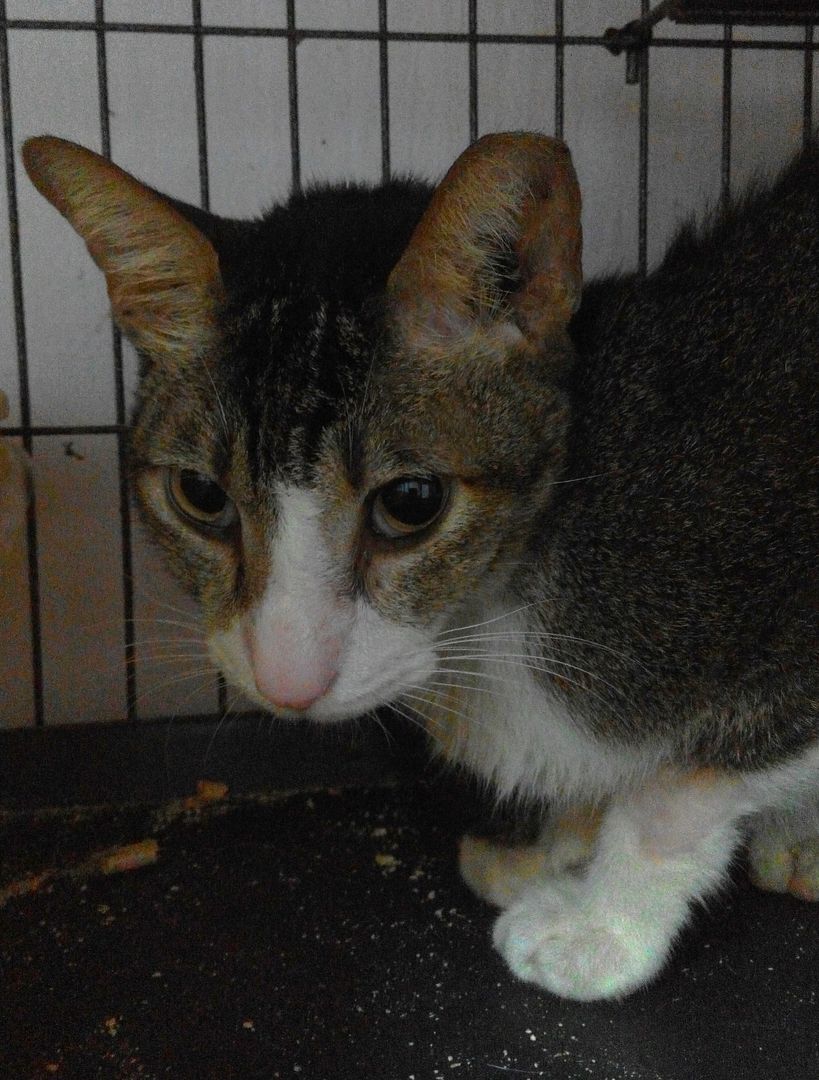 Jerry now, still shy, but better!
He continues to be on 80-100ml of SC fluids a day. We just ordered more bags of Hartmann's solution, 18G needles and IV lines from Yeap Medical Supplies that distributes to clinics and hospitals. If you wish to help financially, make a donation to our Boarding Fund, which pays for such supplies. Our bank account number is below, and after you give, email to indicate you have given to the Boarding Fund. Thank you!
Donate to our cause by making a deposit to our Love Kuching Project DBS Current Account 027-905975-3 or via Credit Card
Donate us food or litter at charity rates with free delivery via Pawfection