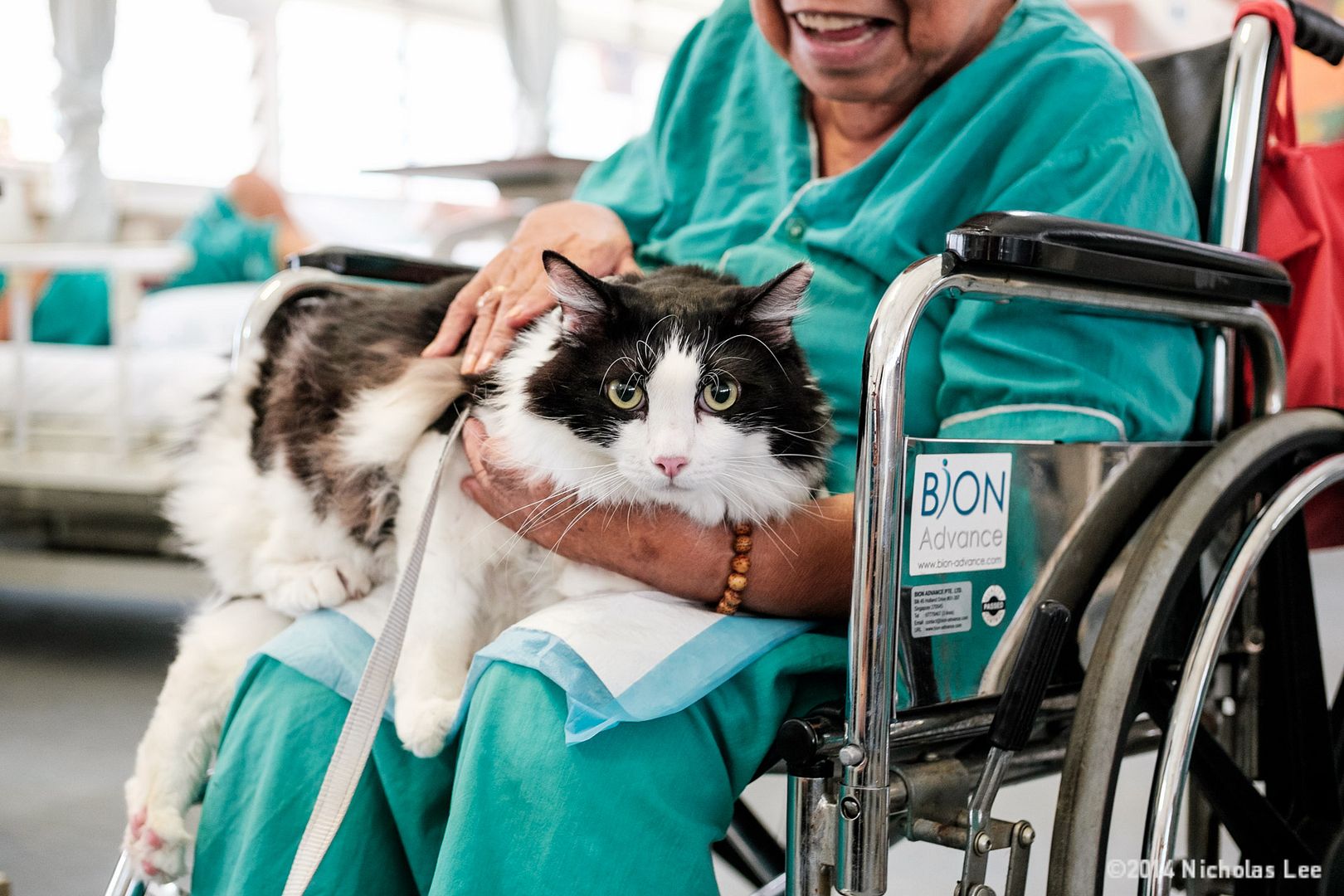 Ninja with a wheelchair using patient in a ward at Renci
Last June, Renci Nursing Home at Novena contacted us to conduct animal assisted therapy with cats for their patients as part of their rehabilitative therapy programme. Our Outreach Team, at that time consisting only of Camellia and Nicole went down to visit their staff to map out a feline therapy programme for their needs.
The home was concerned with therapy programmes for ward-bound patients, some of whom cannot even sit up on wheelchairs. Our therapy programme has 3 objectives: physical, psychological, and social. So we crafted a programme for their ward-bound patients and started with one ward when we launched the programme. Since then our programme has expanded to cover three wards, and we are also in the works of planning to cover other Renci branches.
Butter on a bedbound patient's lap
Each patient who is interested and doctor-approved for the therapy goes through a checklist of therapy activities each time the therapy cat visits their bed, in order to fulfill the 3 therapy objectives. This way, the nursing home can use the collated data to assess the patients' benefit from the programme. Each patient gets to touch the cat if they want to, to encourage the psychological benefit from a cat's affection.
Cola Bay being touched by a patient on her bed
Some patients have stroke or arthritis, so patients may need assistance from our volunteers to create the physical contact with the cat. They may also need help with movement of their hand across the cat to stroke it, which creates a physical therapy benefit for the patient. Each patient's therapy session is evaluated to see if the stroking is volunteer-assisted on independently initiated by the patient.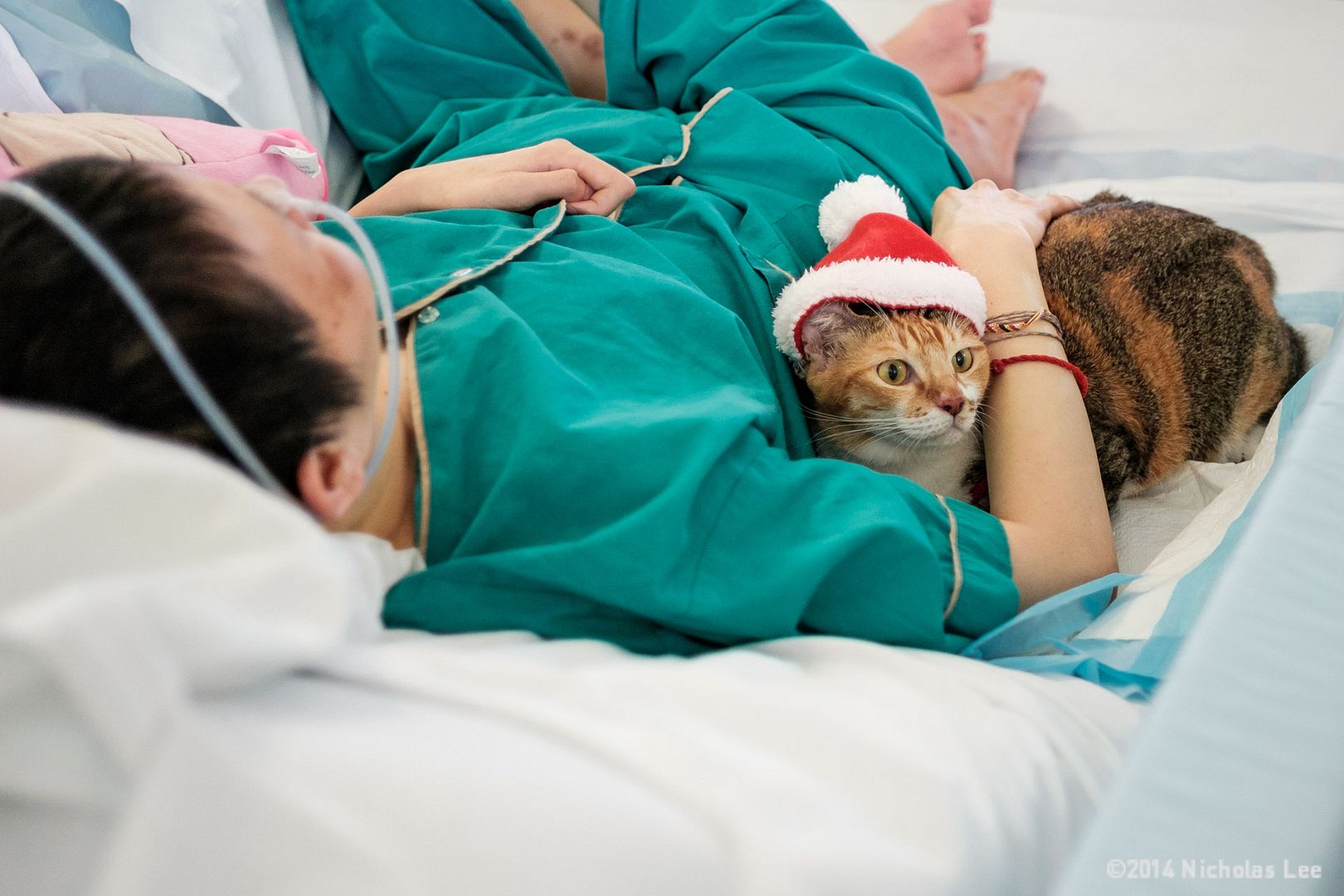 This bed-bound patient initiated contact with Teapot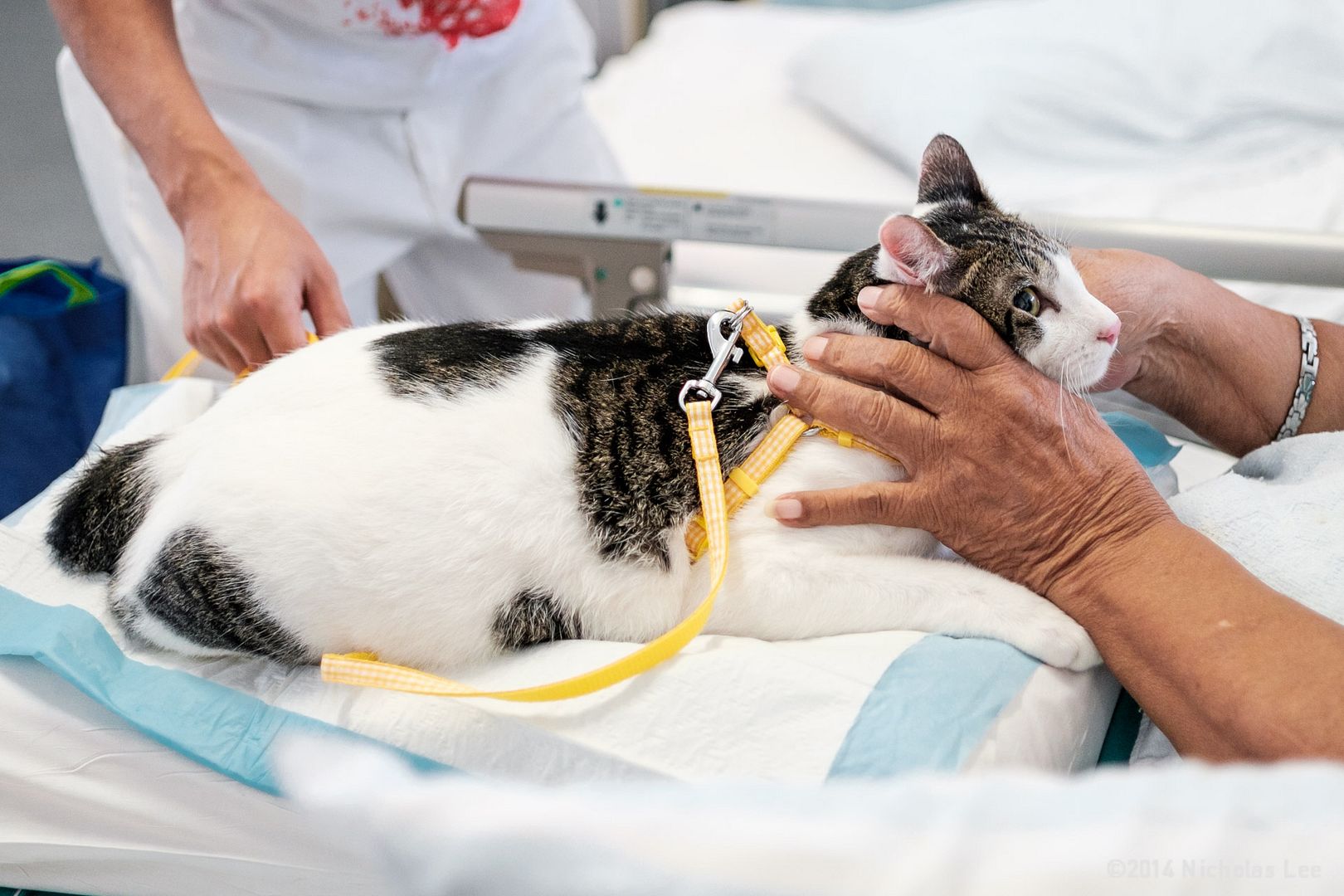 Patient encouraged by volunteer to physically stroke the cat
Kieran being stroked by a patient who can sit up
During each patient's therapy session, the volunteers will use the cat as a conversational icebreaker to get the patients talking. Sometimes these patients have no one to talk to the entire day, or may not have anything to talk about with their ward mates. Some of these patients also talk or sing to the cats, prompted by the volunteers if they are more reserved.
Socially interacting with Butter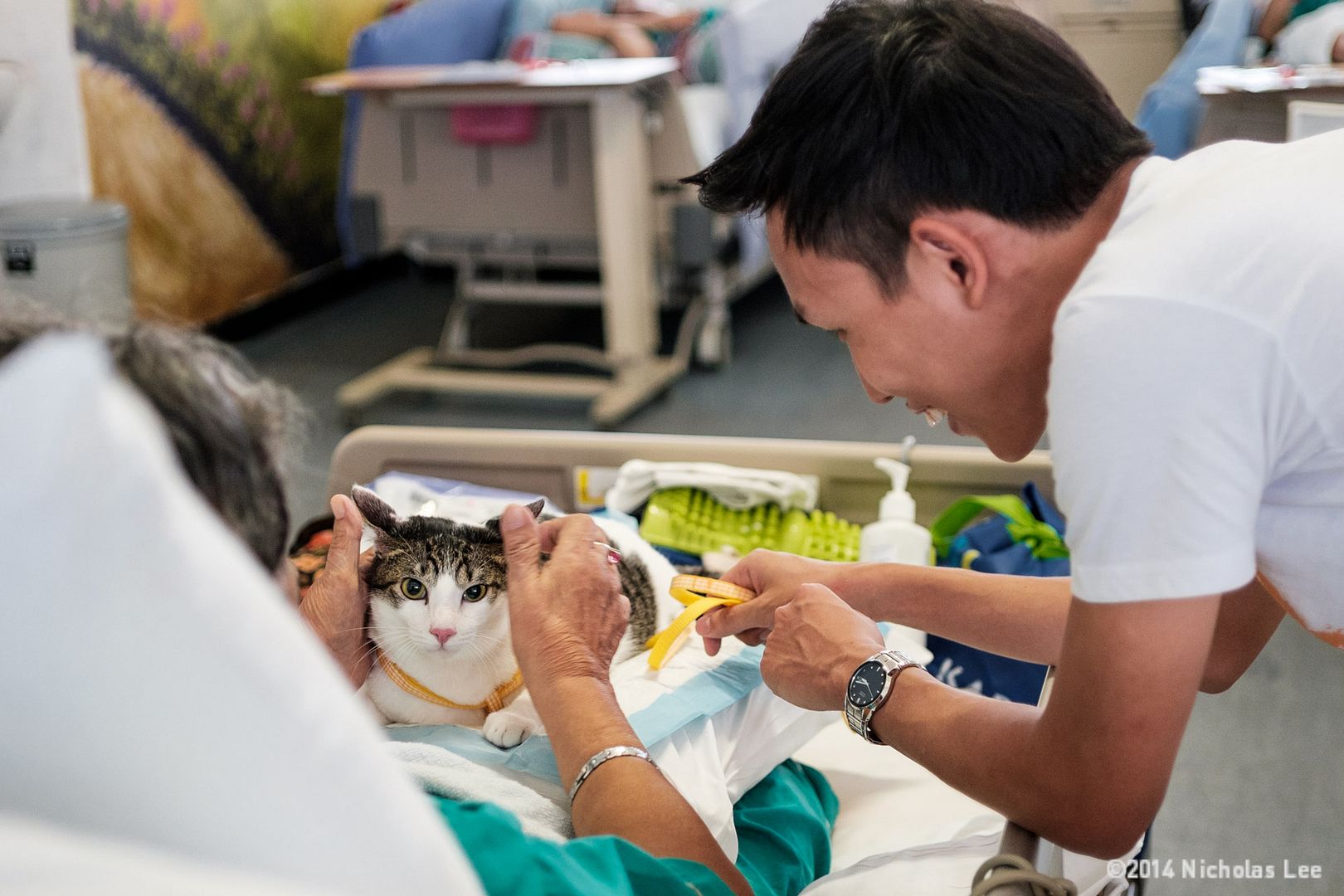 Using Butter as a talking point to encourage conversation
How do we get suitable cats for therapy? The cats either are fostered by us, or belong to our Outreach Volunteers, such as Dharma and Gracie. For Renci Nursing Home, because the therapy session is held on a weekend, ad hoc volunteers can join in with their own cats too. Cats are screened with a checklist for health and personality.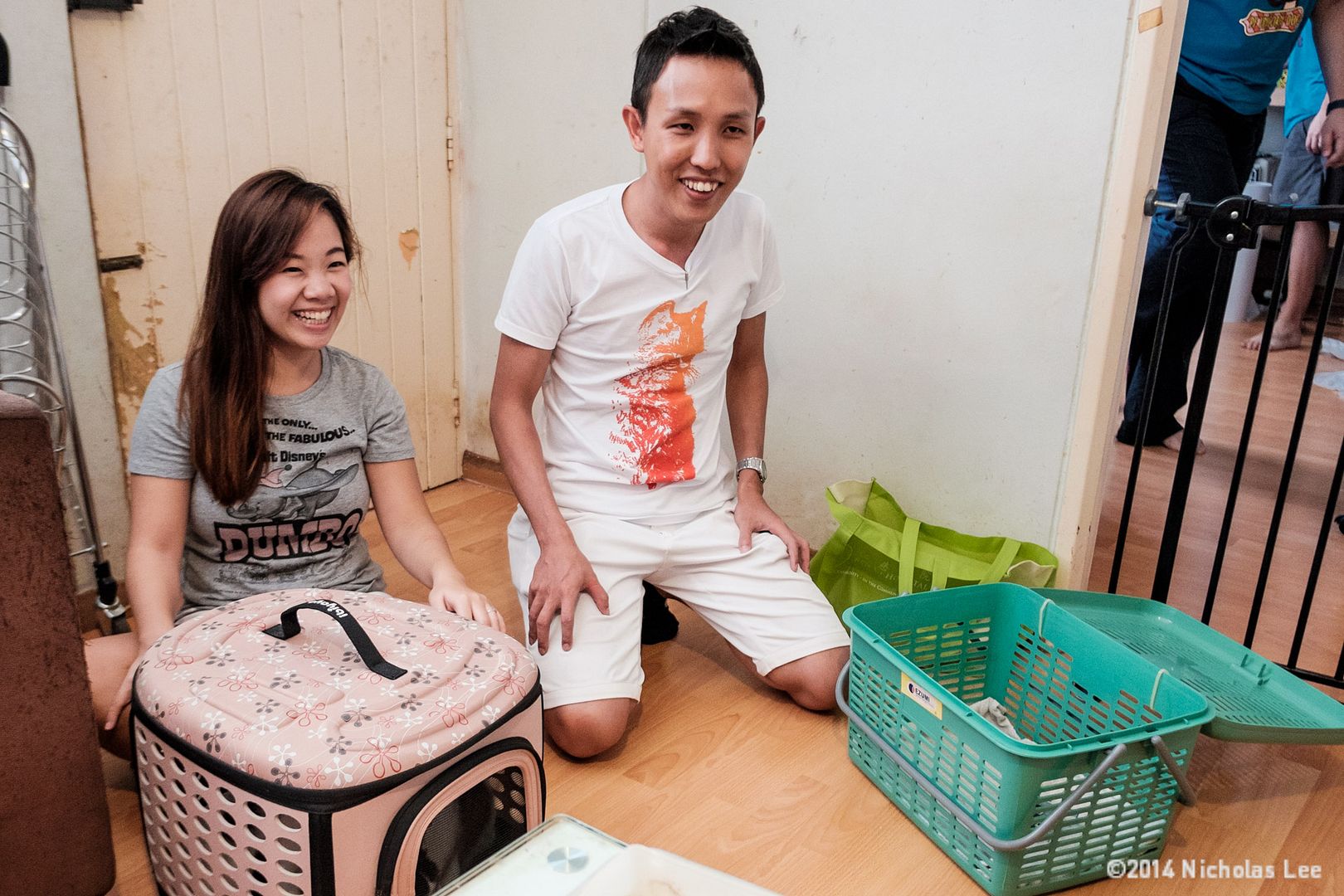 Peanut and Butter's parents volunteering
Before each therapy session, the cats are groomed, nails trimmed, and given calming supplements to ease their stress of being handled by different people throughout the day. This is to protect the welfare of the cats as well as to prevent any aggression that might arise if a patient should accidentally handle the cat too roughly. They are also transported in carriers dabbed with essential oils so as to ease travel anxiety to the home. Each cat wears a harness and has a leash especially for those who are more active.
Teapot getting nails trimmed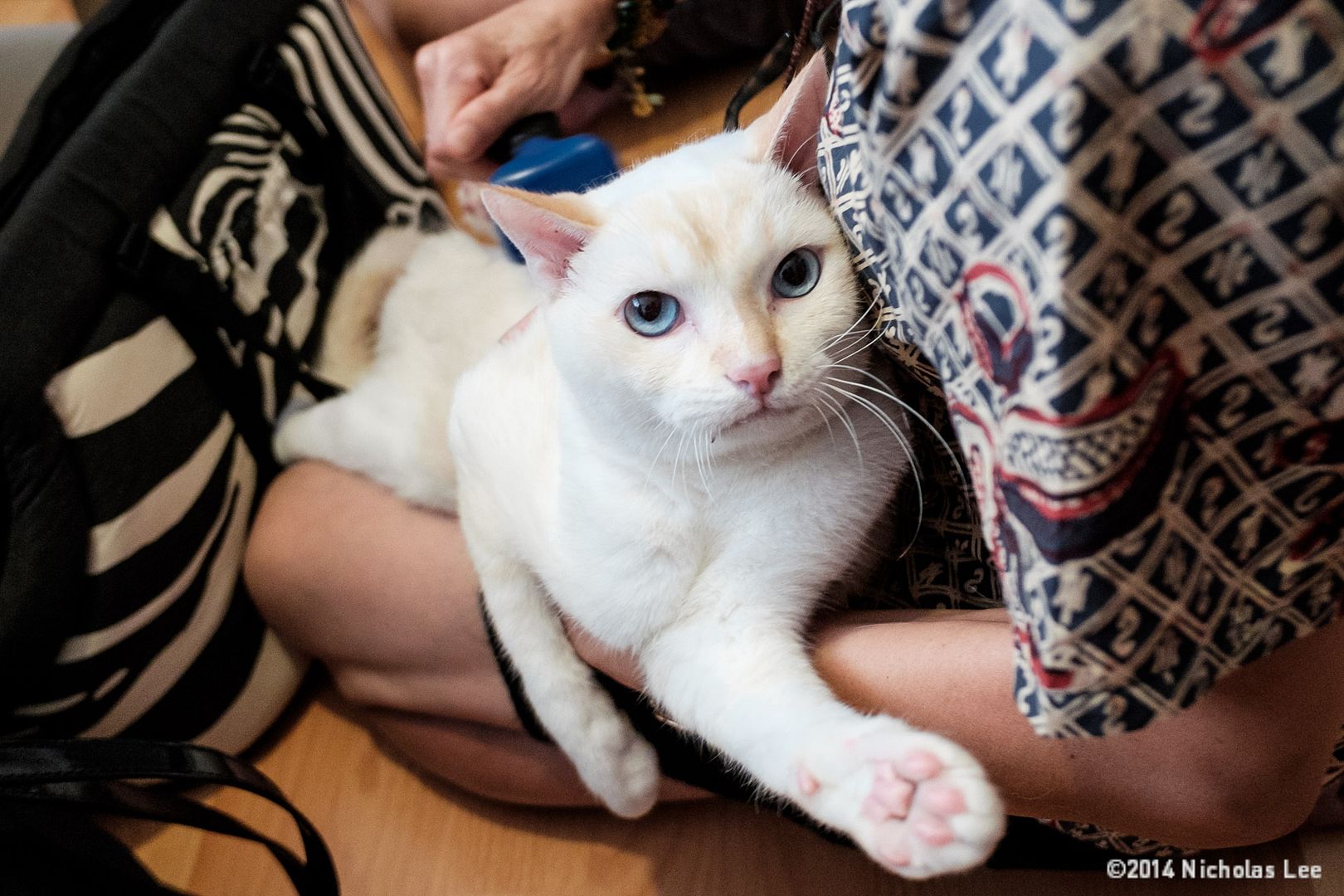 Krystal getting her fur brushed with a Furminator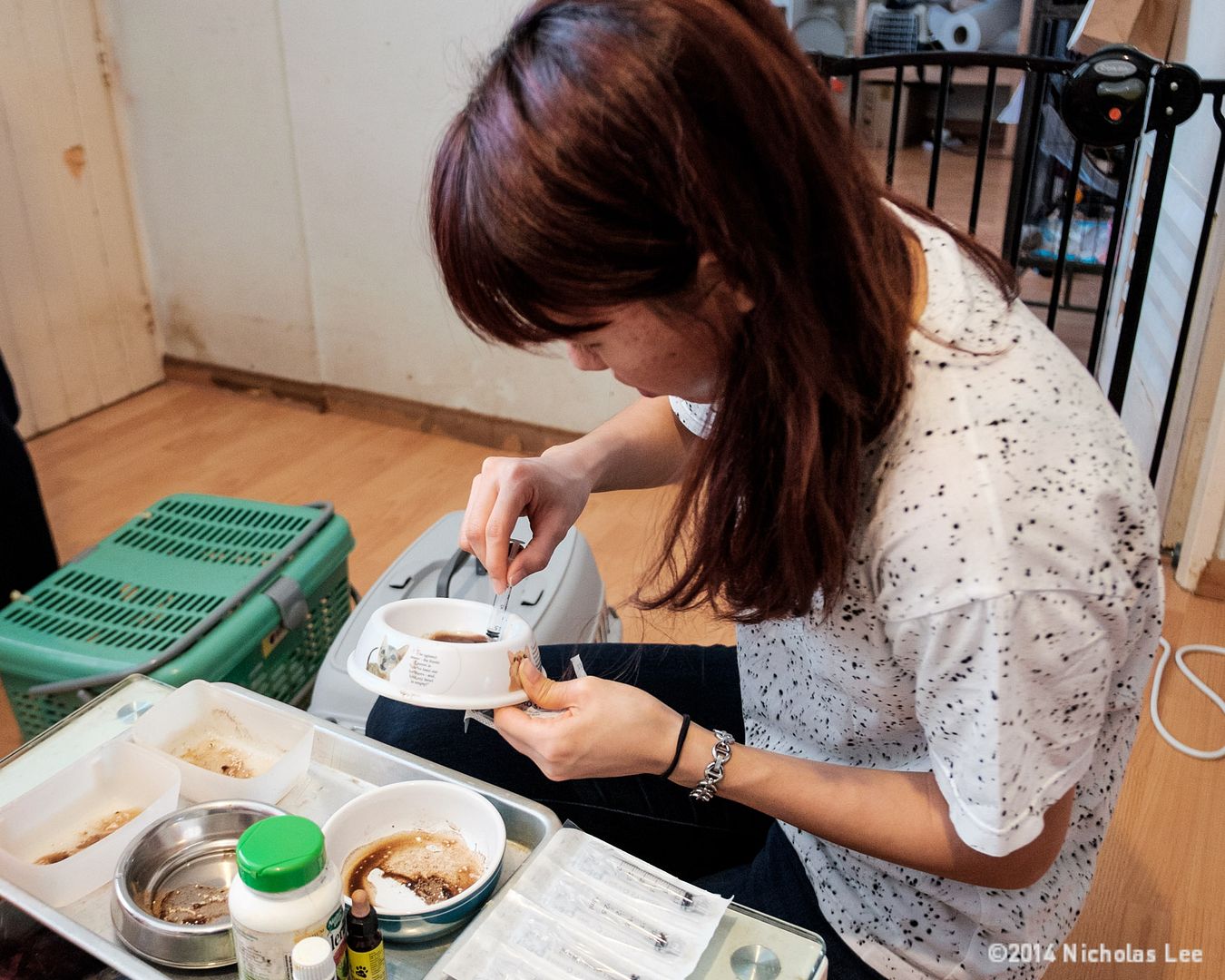 Supplements we administer to the cats beforehand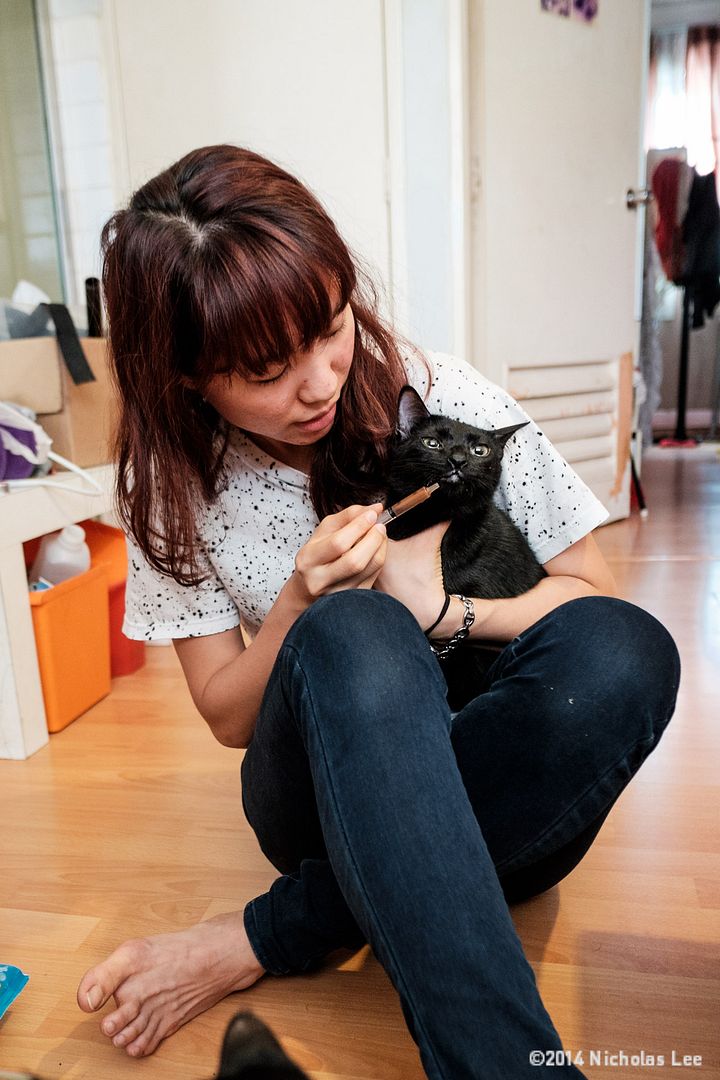 Kieran being fed her supplements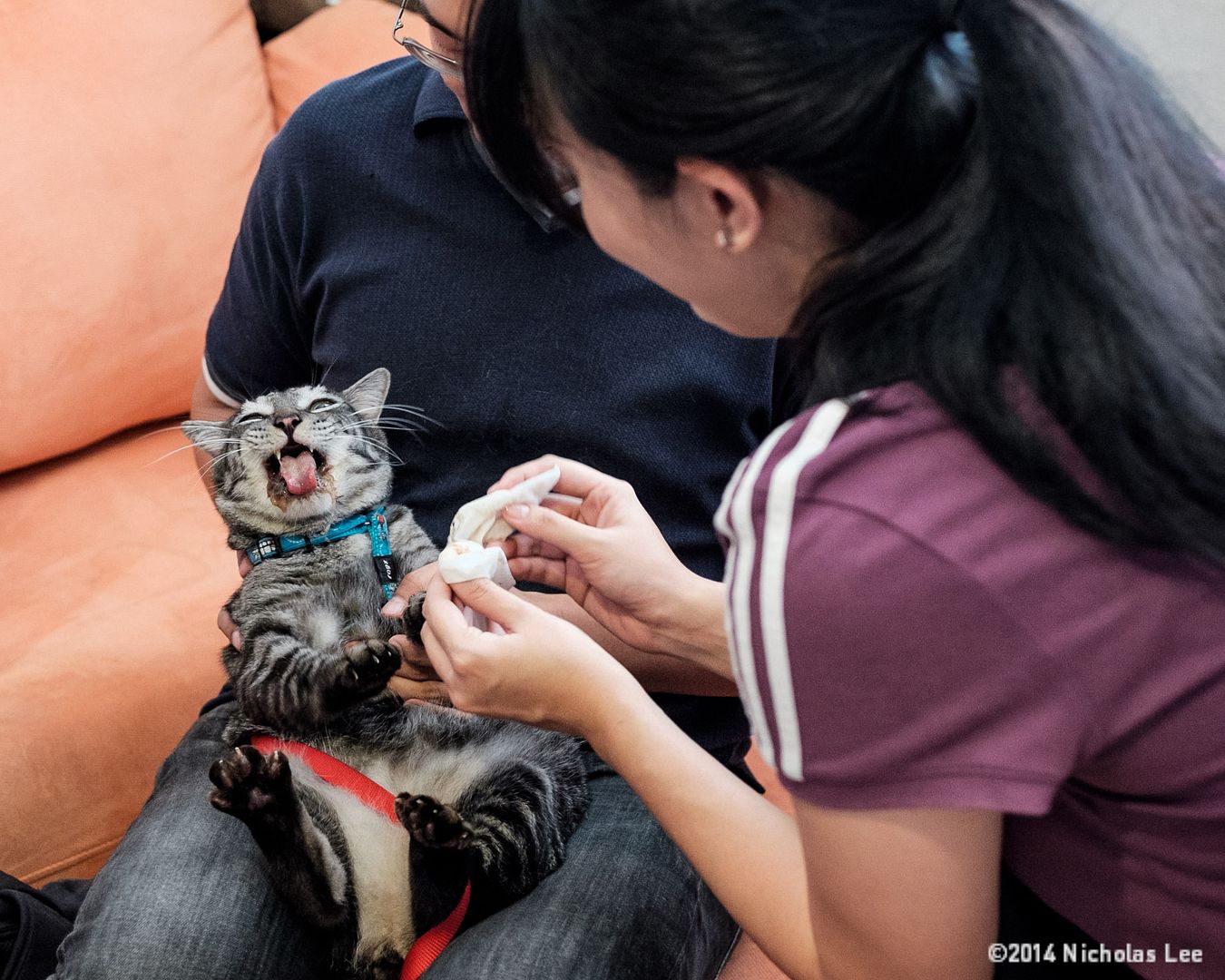 Yeah, some of them don't like the taste!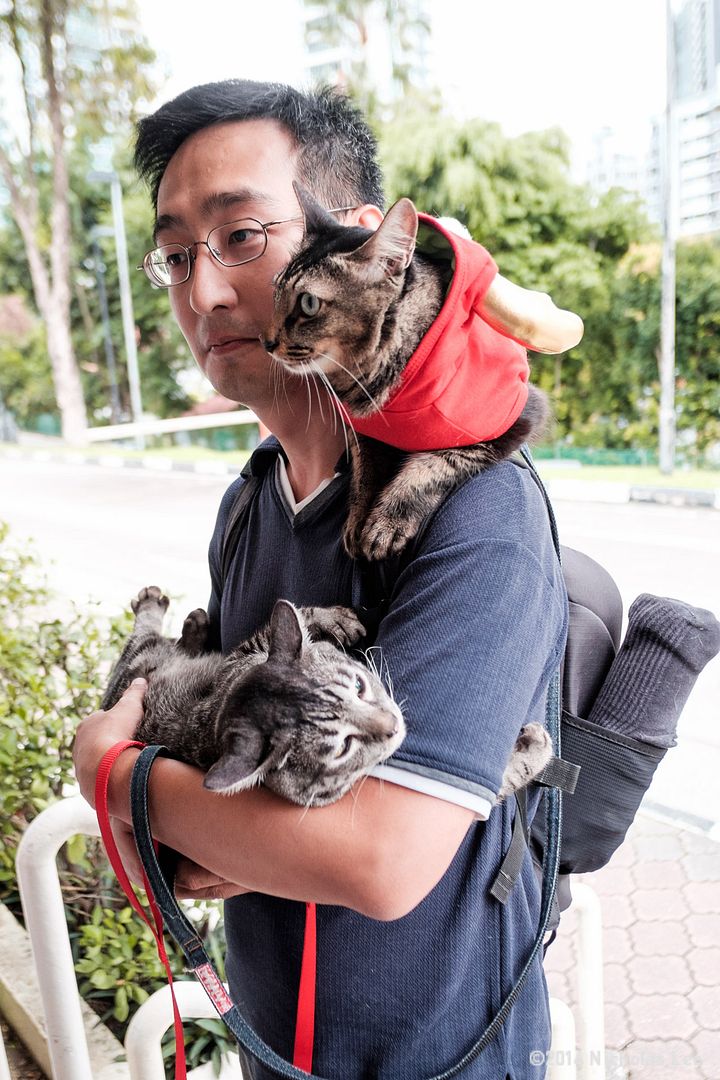 But it's effective in calming you, Duatau Bay!
After the grooming and supplements, the ad hoc volunteers are briefed by the Outreach Volunteers on safety measures, therapy steps, hygiene protocol – for instance, placing a pee pad on the patient's lap or bed before the cat is placed with them, sanitising of hands and observing doctors' orders on which patients should not have contact with the cats.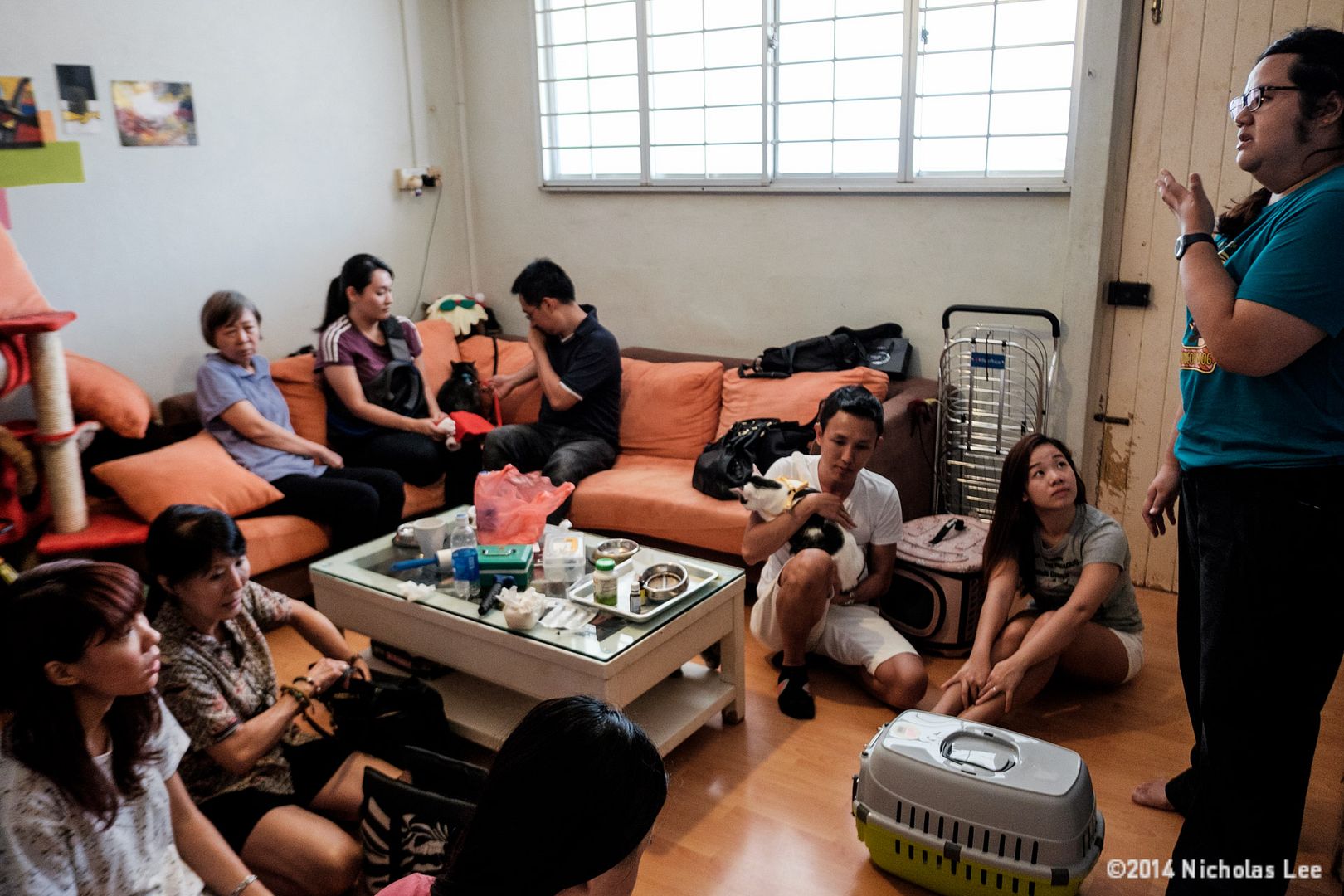 Dharma briefing the volunteers
We go to Renci Nursing Home every 4th Saturday of the month. If you wish to join us, drop an email to our Outreach Volunteer Camellia at outreach@lovekuchingproject.org.
We promise you it will be fun, and meaningful – sharing the love of cats with those who need it.
Donate to our cause by making a deposit to our Love Kuching Project DBS Current Account 027-905975-3 or via Credit Card
Donate us food or litter at charity rates with free delivery via Pawfection