| Jodi, a ticked tabby girl, now about 4 months old |
On 15 February one of our Foster Care Volunteers, Rashid, was ill and went to see the doctor. On his way there, he passed a vegetable lorry from Johor, and realised a kitty cat was inside and was really scared! He found out from the lorry driver that this cat must have hitchhiked secretly when he came into Singapore that day.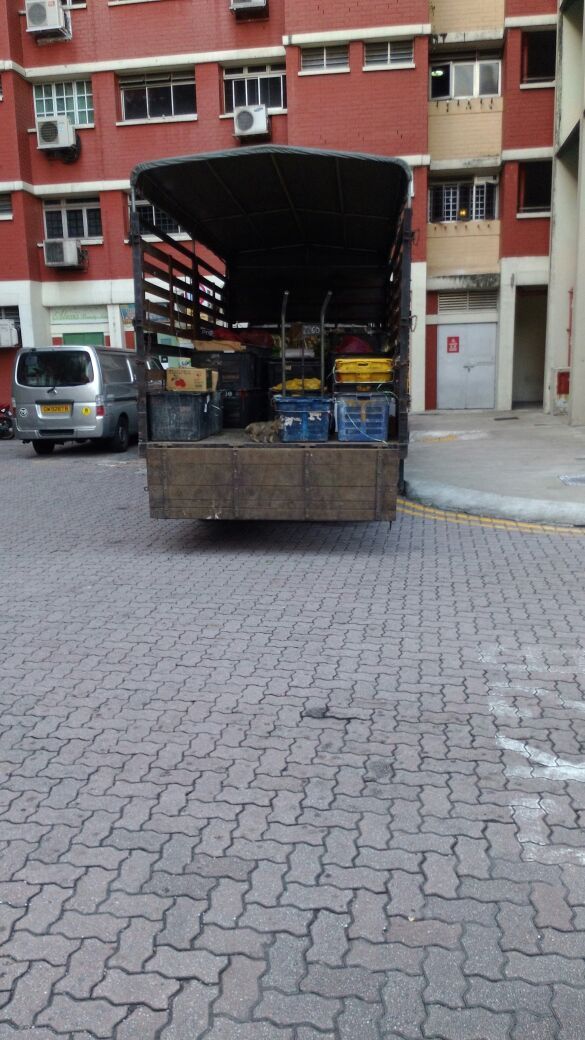 The vegetable lorry Jodi was in. Jodi didn't dare to come down.
The driver said he was going back to Johor and didn't want Jodi in his lorry, which isn't wise anyway. Rashid had no choice but to help the lorry driver out. Jodi came to us the next day. She was too huge to go and share the kitten suite with the other foster kittens so we had to let her roam. She was thankfully confident enough to not go and hide somewhere.
A definite outgoing cat
She did get into some quarrels with the other female foster cats roaming around, especially Gurly. But she got on well with Kitten IC Sealy, Kitten IC Emeritus Scooter, and Scotty the dog. She seems to like boys!
Temperament-wise she is also super duper affectionate and loves humans a lot. She is teething at the moment and likes to bite (gently) human hands but we started training her from the start of her stay here not to do that. She really loves to play with ball toys and toy mice (but in an elegant fashion), and when she is not playing, she loves to sleep a lot!
Jodi reaching for a toy
Jodi falling asleep
She is really pretty isn't she?
She is a ticked tabby with a mid length bent tail
She has gotten her first vaccination and vet-checked, and knows how to use the litter box and eat, drink on her own. She gets along well with boy cats more than girl cats and she likes dogs. Given her headstrong nature she is likely to do better if adopted with another cat. If you are keen on adopting Jodi, see right side bar under 'How to adopt' or click here.
Donate to our cause by making a deposit to our Love Kuching Project DBS Current Account 027-905975-3 or via Credit Card. Donate us food or litter at charity rates with free delivery via Pawfection