Tiger is a stray cat from a colony we did TNR sterilisation in before, in a back alley off Bendemeer.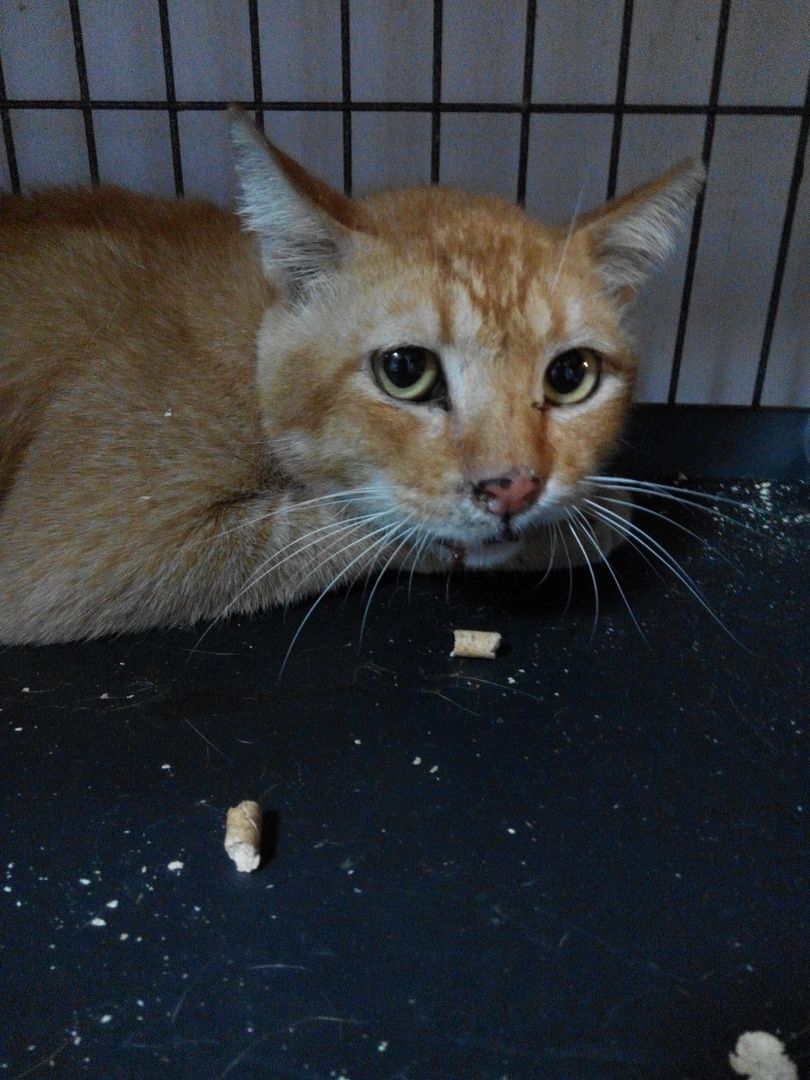 Tiger when he first came to us
Tiger's feeders only go to his colony to feed them at close to midnight every night. When they noticed Tiger had stopped eating even though he seemed hungry, they brought him to an overnight vet clinic. Tiger had tooth decay and gum disease. Because of off-hour prohibitive costs they managed to only get him injections and skipped any form of blood tests.
Not long after, Tiger's mouth pain came back and he once again became inappetant. His feeders knew that Tiger would need a more thorough check up and a longer term treatment.
Tiger was in so much pain he was very aggressive and violent towards everyone when he came to us. We brought him to the vet to do the FIV/FeLV test and it turned out poor Tiger has both diseases. In such scenarios, mouth problems will be harder to treat.
Our treatment plan for him was as such: get him painkiller, steroidal and antibiotic jabs that are long acting. Then, book him a surgery date for teeth scaling and extraction. While he stays with us, he will be fed an immunity system booster cocktail of supplements, as well as supplements for pain and inflammation. This will help bolster his compromised immune system. After his surgery, we will have to give him more than usual time to heal up. If the gum diseases thereafter do not recur, the plan is to get him back to his colony. Even though he has FIV and FeLV, keeping him away from his street friends is not the answer, because they likely all already have the same diseases. Making Tiger a shelter cat for life is not in his best interest, especially since he is one of those cats that doesn't like being confined. The only way of containing the situation is to get any newcomer to the colony tested and vaccinated so that only the original colony is affected.
Tiger's perpetually emo face
Our first priority when Tiger came to stay was to get him eating again. When he arrived, he had already been not eating for a few days. We started with small portions of Addiction Brushtail with his cocktail of supplements. Soon, his appetite got better and better, and he started eating more. We were so glad to see him improve!
Tiger can now eat a lot
Because of the supplements cocktail, so far he hasn't need another steroidal jab or painkillers. A list of his supplements:
For immunity: Arabinogalactan, thymus, maitake, reishi, shiitake, astralagus, cordyceps, colostrum, coQ10, alfalfa, echinacea, aloe vera, boswellia, and the standard vitamin B, C, probiotics and fish oil. For inflammation: curcumin, ashwagandha, colloidal silver. For pain: homeopathic blend painkiller. (We buy our supplements from iherb.com, for humans but feed half the dose. If you wish to buy from iherb.com use our discount code AVA985 to get USD5-10 off your first purchase and we earn credits too!)
Now, Tiger is a chatty, attention-seeking kitty. Like we always tell the cats when we administer injections and such, that this will help them be in less pain. When the pain really subsides, we reaffirm them by saying, "See? The pain is gone right?" We did this to Tiger too. Now every day he is super grateful and happy to eat his food.
At our new cattery space we are moving into this weekend, a partitioned room will be built (target completion on Thursday) as a quarantine area, and Tiger will be the first to christen it. While FeLV is not airborne but transmit through saliva and blood, we want to further protect those who linger near his cat suite, for better containment. We are really looking forward to that aspect of our new cattery, something we couldn't afford to have until now.
Follow Tiger's recovery story on our social media platforms!
Donate to our cause by making a deposit to our Love Kuching Project DBS Current Account 027-905975-3 or via Credit Card. Donate us food or litter at charity rates with free delivery via Pawfection