Turmeric, ginger / white kitten, @ 3 months old
Turmeric was found by one of our volunteers who was at Lim Chu Kang, the farm areas. Turmeric was then only 2 months old, and had very severe flu' and conjunctivitis.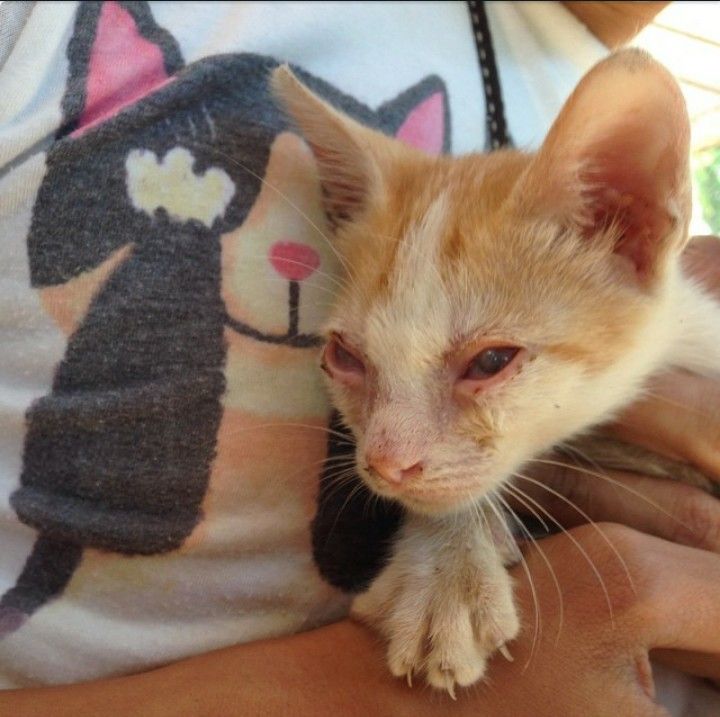 Turmeric when first rescued
He underwent treatment here at Love Kuching that included antibiotic eye drops daily. Eventually his eyes became much better. There was much less ulceration of the eyes, and he could see clearly.
After one month of eye treatment
Throughout the entire time he stayed with us, he never lost his zest for play and discovering new things. He is very playful and curious. He also likes to chirrup to himself when examining a new 'game' or toy.
Very responsive to play
He also gets along well with the others in the foster home. He doesn't like Scotty the socialisation dog so much, but he takes care of both older and younger foster siblings, respects his elders especially after he got a scolding from Scooter, Kitten IC Emeritus, about playing too near an older cat's personal space.
He doesn't like Scotty too come to near him
Turmeric with his best friend Meredith
Turmeric's eyes are unlikely to heal any much further than what they are now. His vision is not impaired, but he will have slightly teary eyes. With daily eye cleaning alone he will do fine, and is the same as any normal cat.
Turmeric is now 5 months of age, dewormed, vaccinated and vet checked, and is independent in his litter box usage and with food and water. He has been Revolution-ed (no fleas or mites, and Revo acts as a dewormer too). He enjoys going out on a leash and harness too by the way, because of his outgoing nature.
To adopt Turmeric, see right side bar under 'How to adopt' or click here.
Donate to our cause by making a deposit to our Love Kuching Project DBS Current Account 027-905975-3 or via Credit Card. Donate us food or litter at charity rates with free delivery via Pawfection