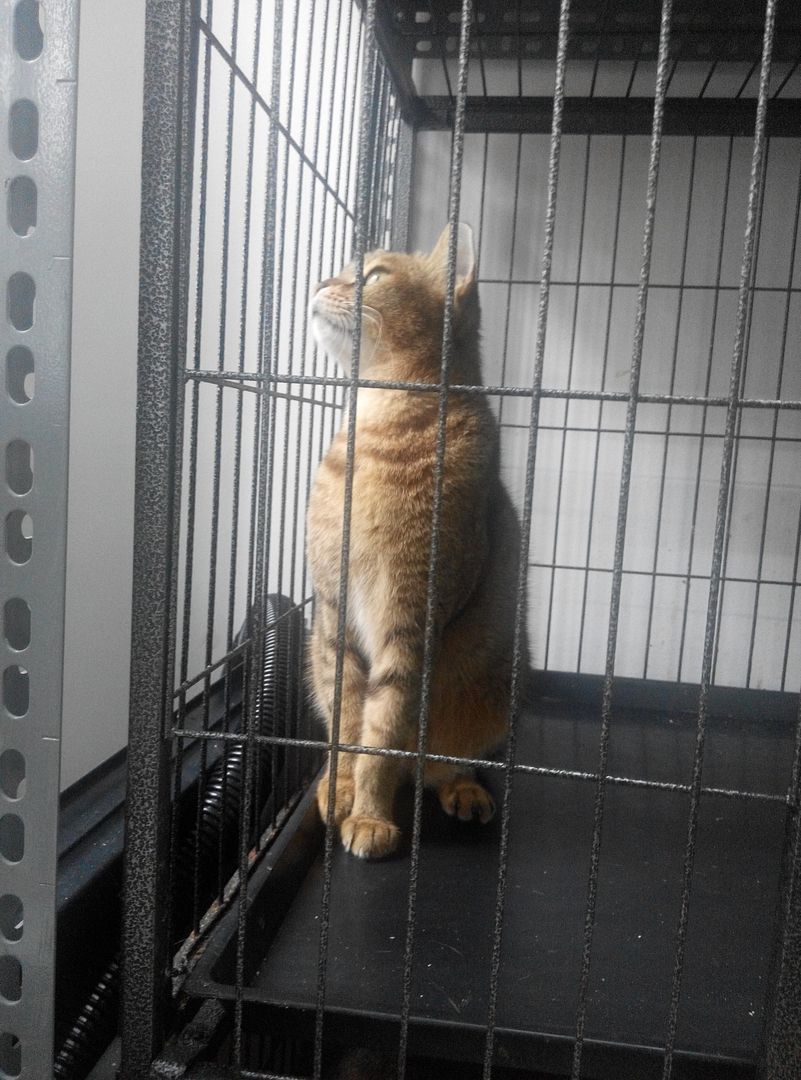 | Momo currently recuperating with us |
Momo first started attracting unwanted attention by a condo management in Farrer Road, where she had then been unsterilised, finding boyfriends in the condo grounds, and giving birth within. She has since been sterilised, abandoned her boyfriends in the condo, preferring to hang out at a safer location outside the condo's perimeter. She was sterilised with a microchip under one of our volunteers' names.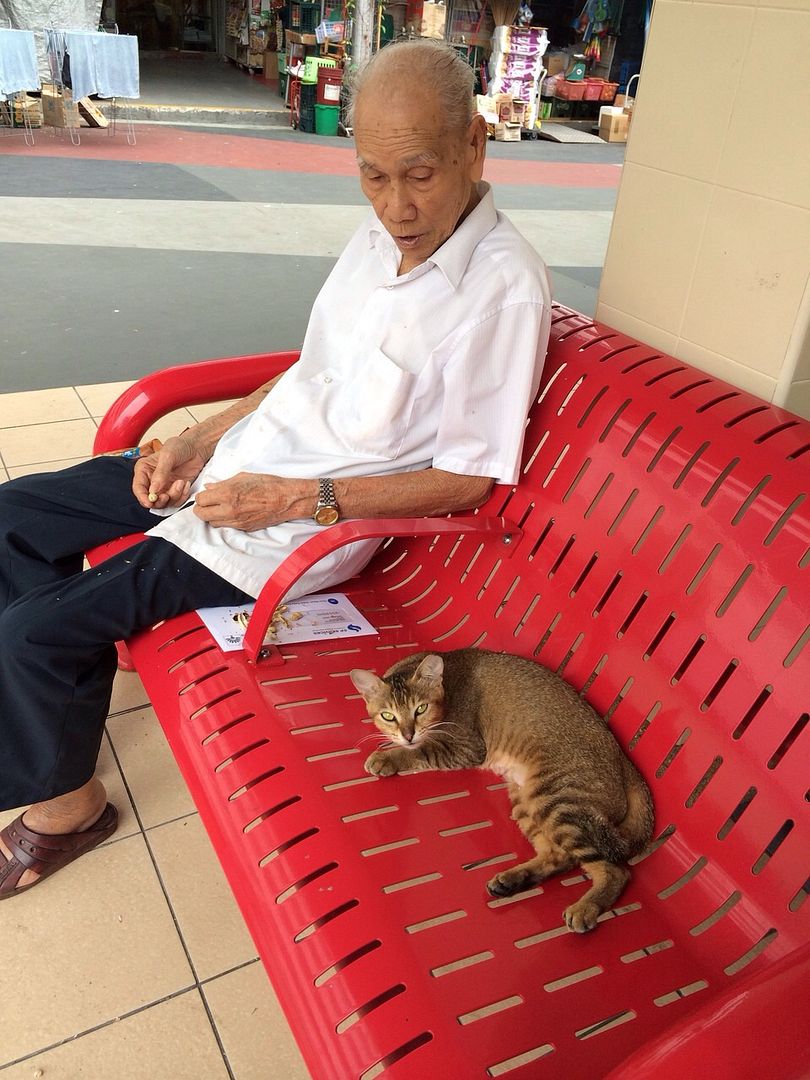 | At her favourite bench with an ah pek |
Recently she was discovered limping by a resident in the area, who then called SPCA. Because of her stray cat microchip, our volunteer's name came up and was contacted by Cat Welfare Society. Momo was bailed out by our volunteer and brought to us to recuperate from her leg injury since we had the space.
Our vet prescribed cage rest and stretches for her, as it was not an injury that needed surgery or a splint. She however also came with a slight flu' and needed medication for it. She came to us on 5 June, and just completed medication for her flu'; her sneezing and nasal discharge are gone.
We need to check that she can walk properly now, and thereafter she can return to her favourite spot.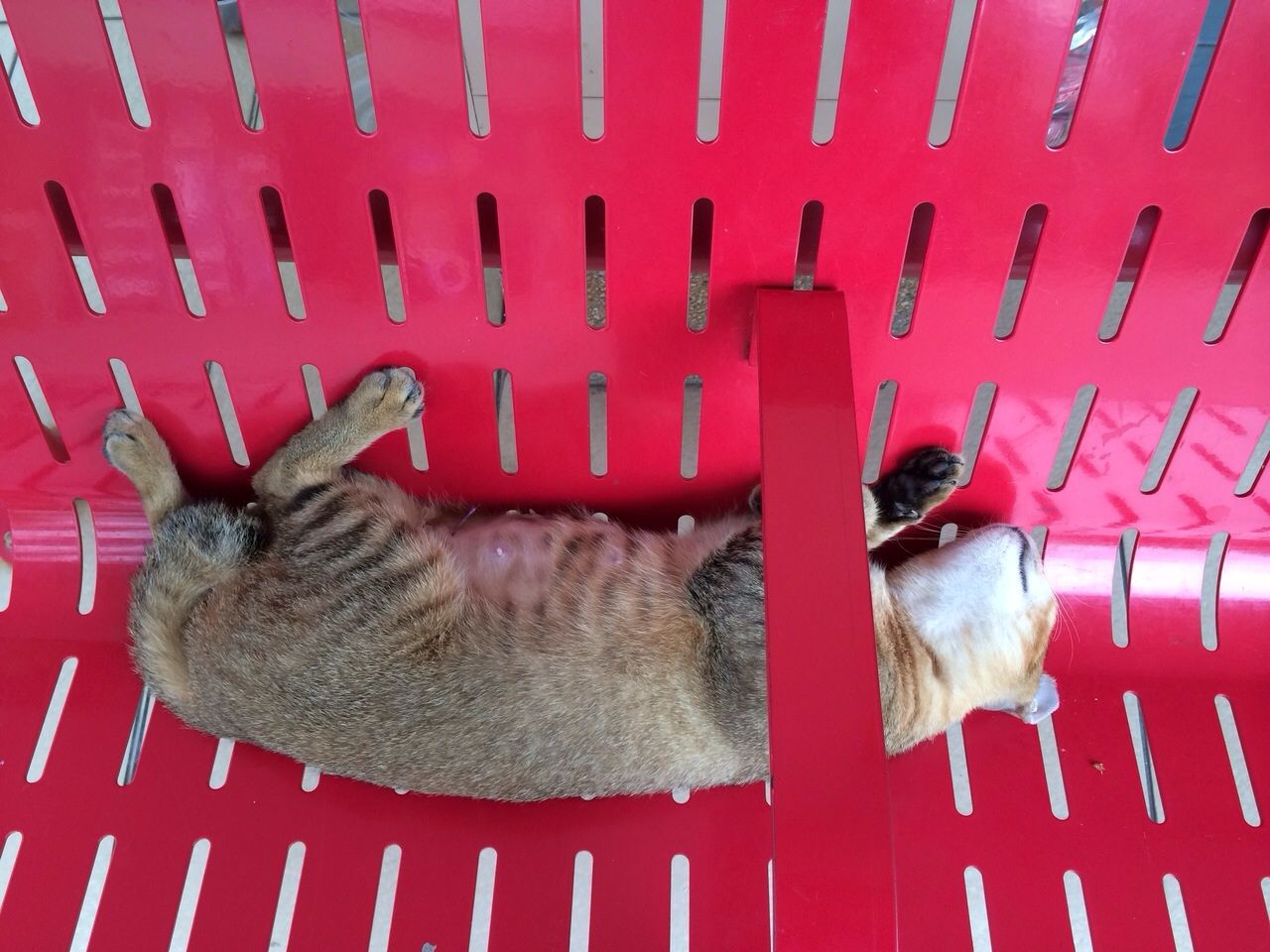 Momo being comfortable back home
You may recall that a litter of kittens was rescued from the same locale – yes, she is the mother of Leo, Lennon, Laney and Louie.
Help us help other cats like Momo and family, through becoming a monthly Boarding Fund giver. Through a budgeted recurring gift from you every month, deducted automatically by your bank, we can ensure the cats that need a temporary home have one with us where they can receive the rehabilitation they need. Young kittens without a mother can find foster parents in our volunteers till they are trained and rehomed. Injured kitties can receive care and rest till they are well enough to go back to the streets. Sick kitties with serious illness can have a final resting place where their physical and emotional welfare will be taken care of.
Donate to our cause by making a deposit to our Love Kuching Project DBS Current Account 027-905975-3 or via Credit Card. Donate us food or litter at charity rates with free delivery via Pawfection