Yolo, now at 11 weeks old
Yolo is a sweet, happy, sociable, human and cat loving extroverted kitten who is healthy and yes, really cute.
He came from a sad past though, found orphaned in the backyard of a home in Yio Chu Kang. When young baby kittens are sighted, the right thing to do is not to disturb the kitten and monitor to see if the mother comes back, while you remain out of sight. This is what the rescuer did, but Yolo's mother did not return.
Yolo needed to be handfed kitten milk formula round the clock as he was only close to 3 weeks old when he arrived. We all took turns to bring him to our own homes so we could do the feeding.
He then suffered from constipation, and we had to add olive oil and probiotics to his milk, give him enemas, and finally he did poop. Aside from that he got through early kittenhood alive and well.
Some kittens take a longer time to learn how to eat on their own, what is known as partial weaning, alongside milk feedings. Yolo was one of the slow ones. Baby kittens that need to be milk fed and cannot fully eat on their own have to stay at the Foster Care Volunteers' homes (whoever has volunteered to take the baby kitten home) till they are independent, then they can come and move into the Love Kuching cattery to stay in the kitten suite. Yolo did finally learn to eat eventually and that qualified him to move out of 'home nursery' care!
However, Yolo had to stay back a while because after he learned how to eat solid food on his own, there was a cat flu' bug going around in the cattery and we had to make sure Yolo didn't also get it. When the flu' passed, Yolo came to stay at the cattery. He made friends with all his new foster siblings, and really loves to cuddle with humans too.
He got vet checked, vaccinated and also went through his deworming schedule. Now he is ready to go to a loving forever home.
Loves to bite toys like a puppy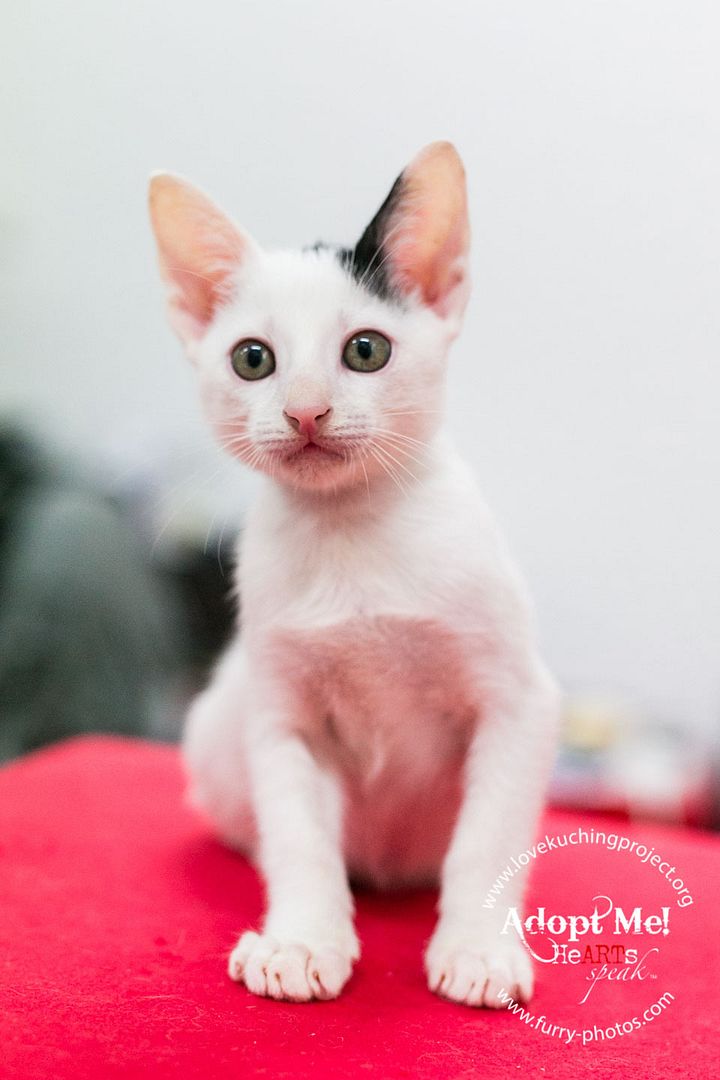 Sitting up like he's already a big boy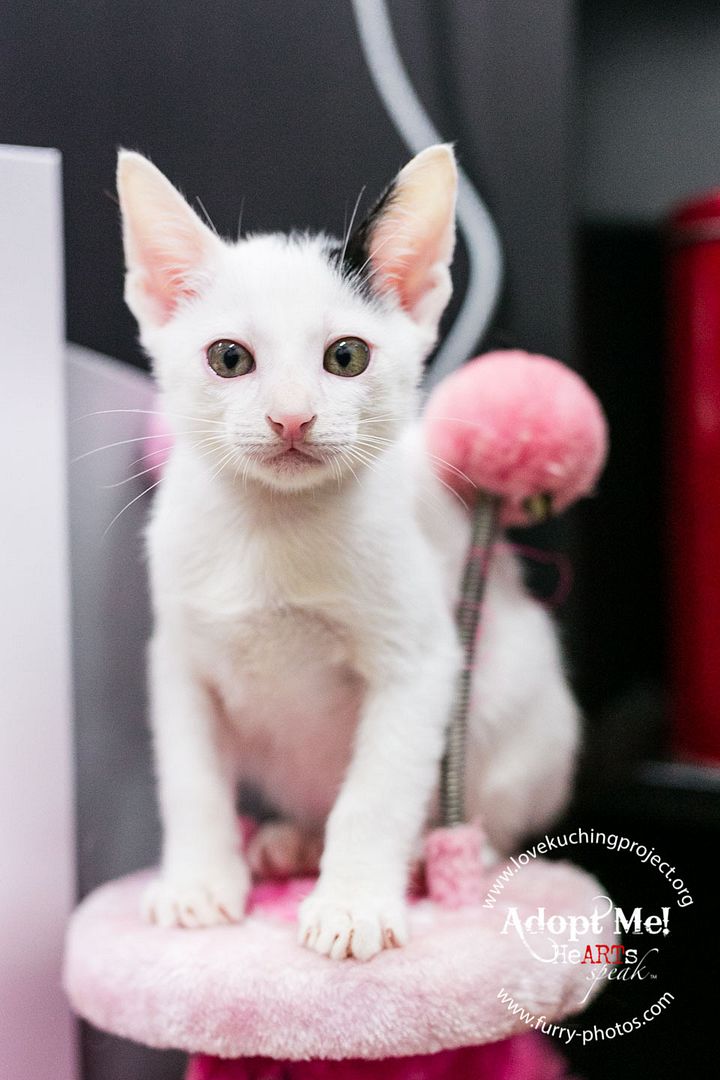 Looking cuddly here…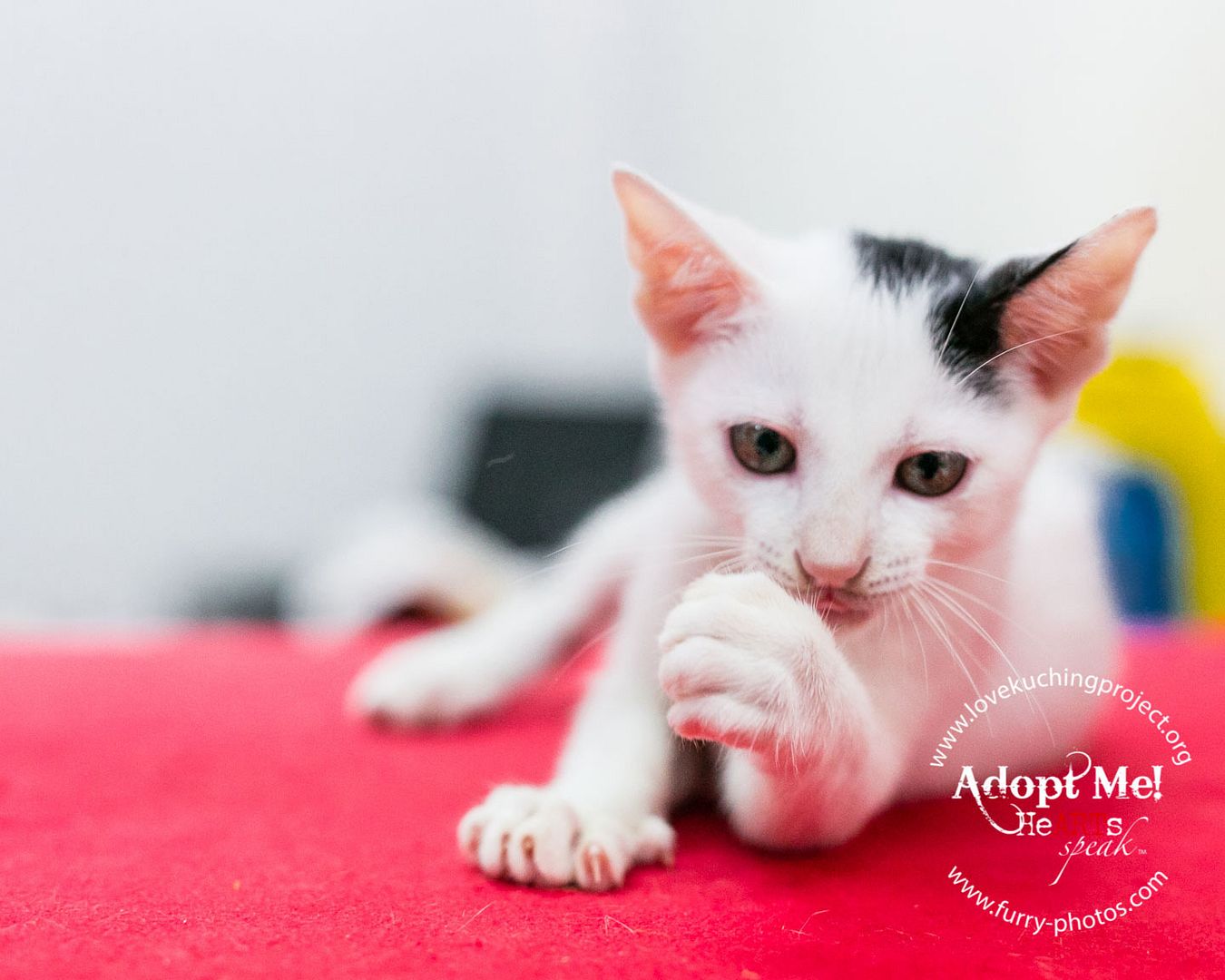 No mummy to clean him, so he grooms himself
Thrilled by human affection
Yolo is a really sociable kitten. He loves his older foster siblings, both kittens and adults alike. He also likes to cuddle and kiss humans, and makes friends easily. He likes to talk, especially when he wants attention. He will belong well in any household that has a lot of human or cat love to give, or both!
To adopt Yolo, see right side bar under 'How to adopt' or click here.
Donate to our cause by making a deposit to our Love Kuching Project DBS Current Account 027-905975-3 or via Credit Card.
Donate us food or litter at charity rates with free delivery via Pawfection